by Zach
Immediately after hearing that the Georgian border would be closed for a significant period of time, I researched alternative options and ultimately concluded that Azerbaijan was the best way to proceed. I applied for the visa through a travel agency, and received a prompt response–yes, it was possible to obtain the visa quickly, but given that it was Friday afternoon and Monday would be a national holiday, I'd have to wait a bit longer. Determined to make the best of my situation, I hunkered down in Vladikavkaz and decided to explore the surroundings.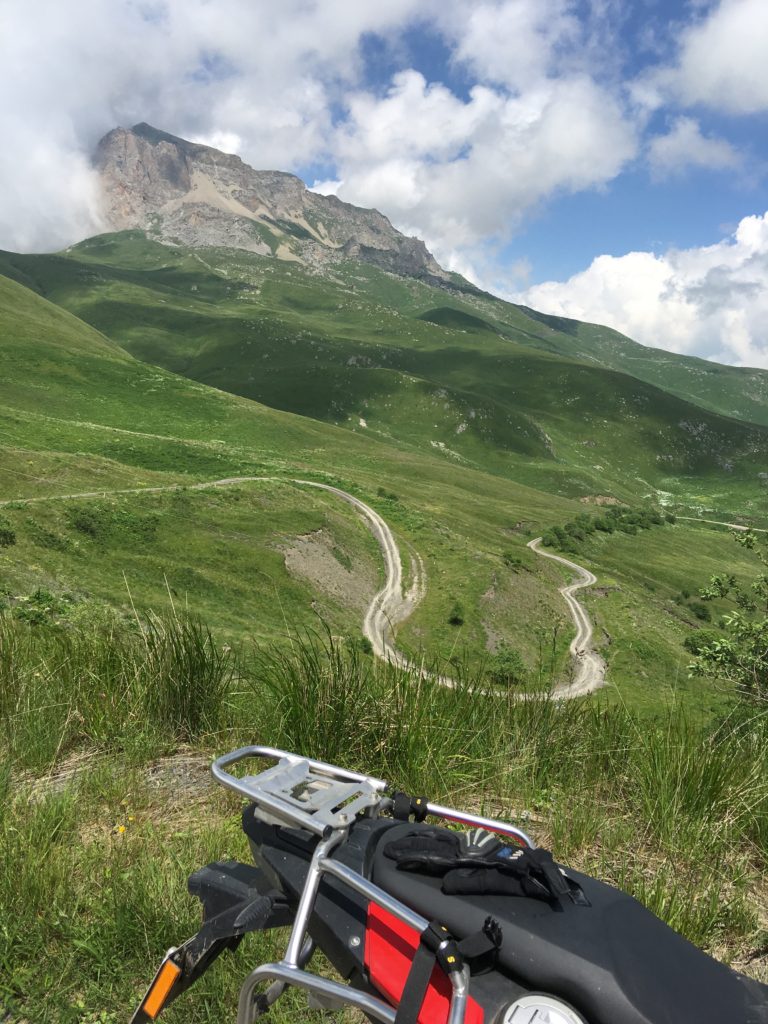 As it turns out, North Ossetia is extremely beautiful. Only half an hour from the center of Vladikavkaz, I found numerous off-road trails leading into the mountains. The views proved to be stunning.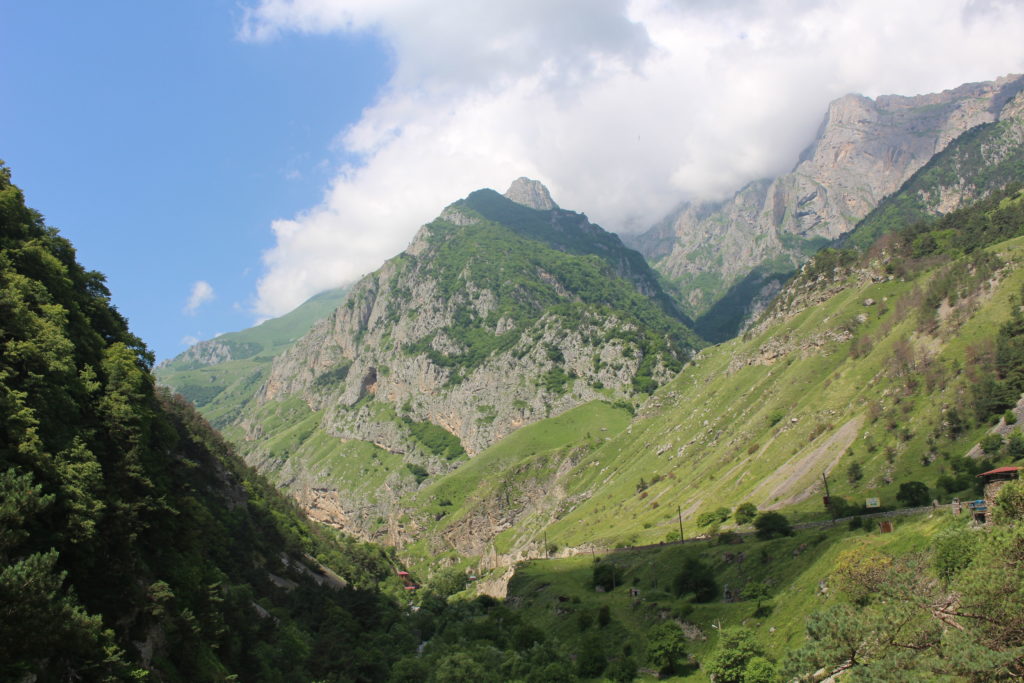 However, locals advised me that the best views and scenery could all be found in South Ossetia–the breakaway republic sandwiched between Russian North Ossetia and Georgia. As it turns out, many South Ossetians live and/or work in Vladikavkaz, as was immediately evident due to the high volume of "RSO" car number plates.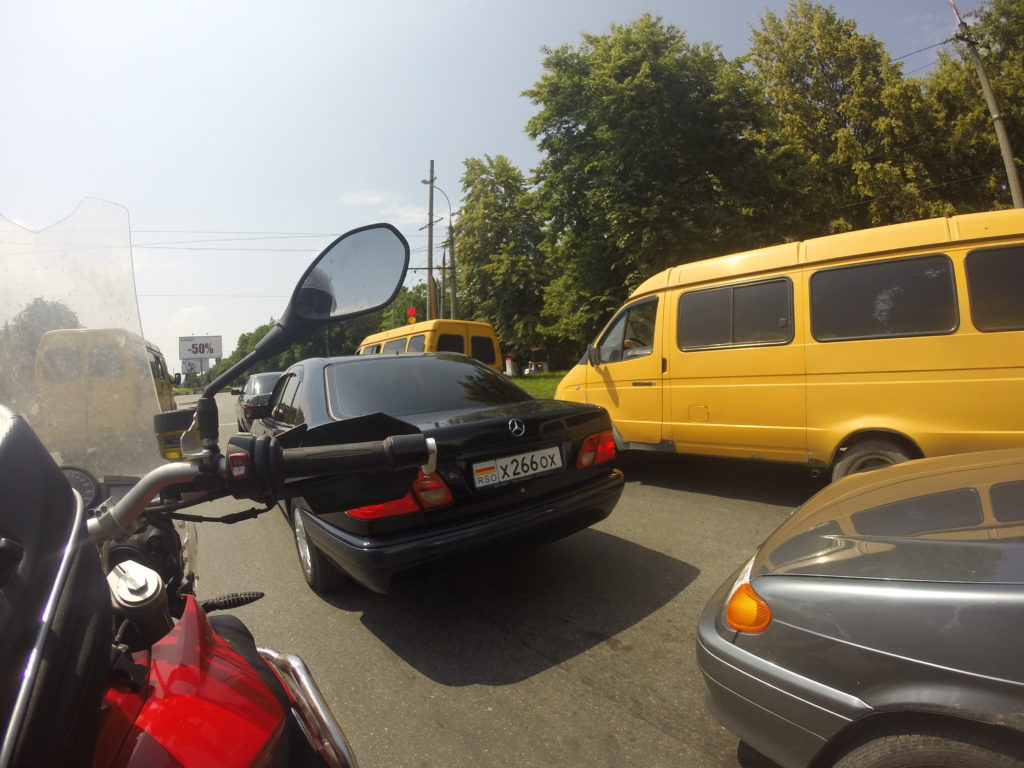 My hotel was also home to a local South Ossetian businessman, who assured me that the country loved foreign visitors and that one American had even married a local in Tskhinvali–the capital. He even offered to escort me into the country. Of course, I agreed. The following day, we set off from Vladikavkaz down the road towards South Ossetia. On the Russian side of the border, the customs officers asked me in broken English, "Are you sure you want to go there?" I nodded. They graciously refrained from stamping my passport. We crossed through the Roki Tunnel and immediately found ourselves at the South Ossetian customs station. The place was exponentially less organized than its Russian counterpart. The police seemed skeptical, unsure of whether to let me through. Thanks to my new friend who effectively bullied his way through the station, it seemed to be no issue. We continued down the road towards Tskhinvali, stopping to enjoy the scenery on paths slightly off the road.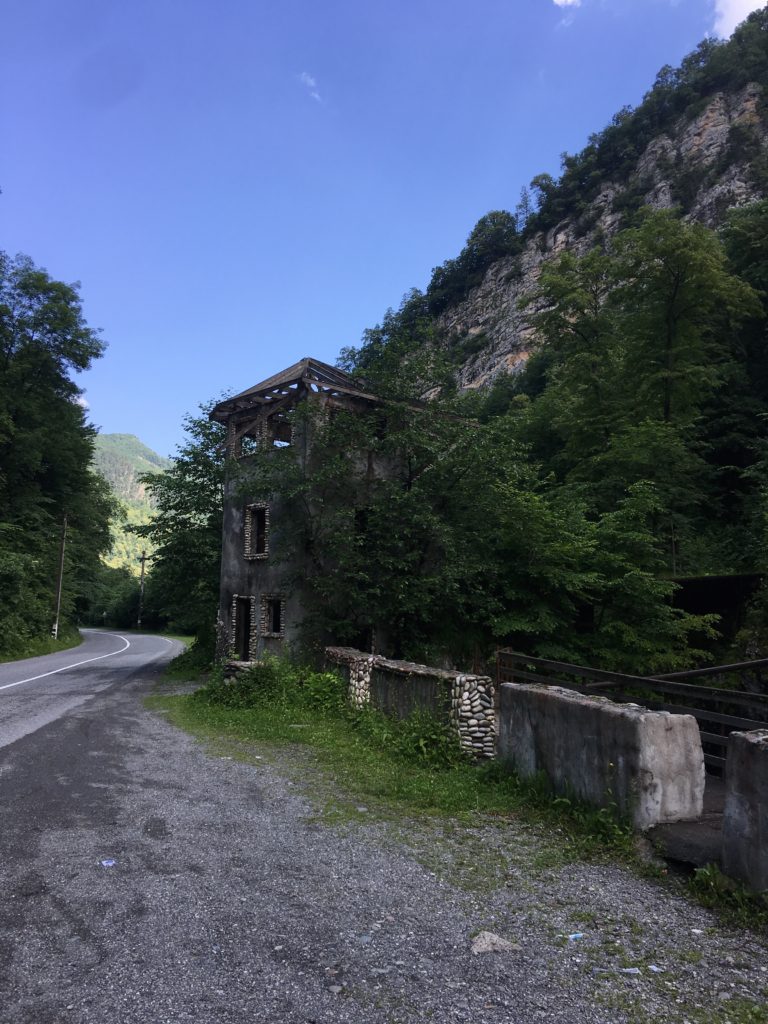 I was in South Ossetia for a total of fifteen minutes before a police car intercepted us. He explained that customs had made a mistake–I had to leave. My friend was outraged, but the police explained that presently, no foreigners were allowed into the country. In addition, he noted that we were currently standing dangerously close to a known landmine cluster, and that it would be cause an "INTERNATIONAL CATASTROPHE" if I got blown up in their country. I agreed to return to Russia, effectively getting deported. Everyone was extremely polite and friendly, yet firm that this was not a place for me.
Back in Russia, I passed some more gorgeous Ossetian sights on the way back to Vladikavkaz, however, at this point, I was resigned to lingering in the city until my Azeri visa arrived.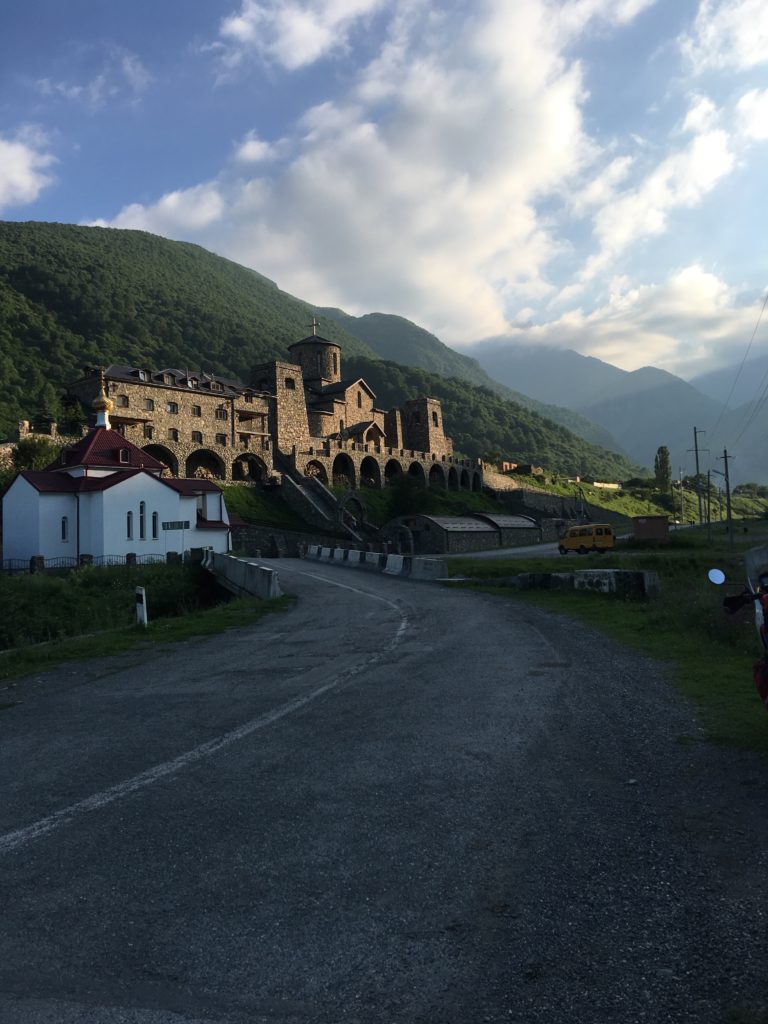 My plans changed entirely when I arrived at the hotel and found two other bikes parked in front. They belonged to a couple from Moscow who were also headed to Georgia, but hindered by the closure. We decided to explore the Russian Caucasus together for a few days.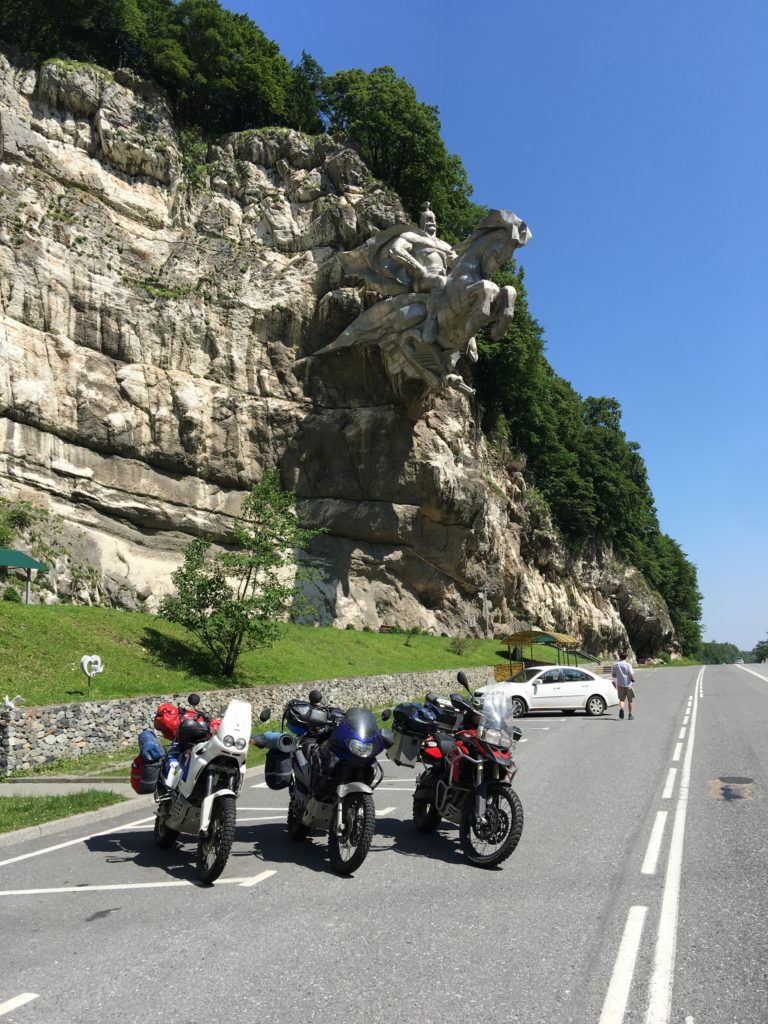 After passing a statue of the local god of travelers, we headed towards Dagestan–Derbent to be precise. Crossing even more of the Caucasian mountains, I decided that this was possibly one of the most gorgeous places on Earth, inhibited only by all of the bloody conflicts that have occurred since the Soviet Union collapsed.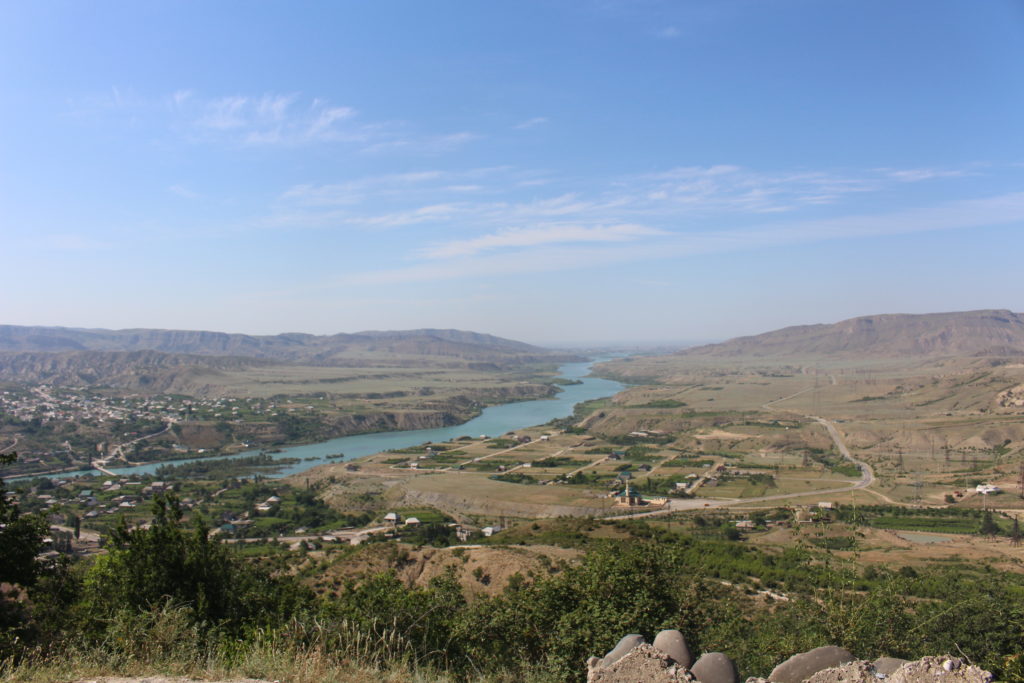 Dagestan is home to some of Russia's most dangerous people, but simultaneously a place full of valleys, mountains and rivers.  Its largest cities are all situated on the Caspian sea, including Derbent, a 2000 year old Silk Road trading post.
In Derbent, I parted ways with my Russian friends.  They were eager to cross into Azerbaijan, and my visa hadn't yet arrived.  When it did, I almost immediately headed towards the border, hoping to get an early start in order to cross Azerbaijan in a few hours and arrive in Tbilisi the same day.  I arrived at the border around 4am, at which point, the Russian border guards asked me for my temporary import form.  I didn't have one–entering from Kazakhstan, no paperwork was required for the bike.  They persisted.  Finally, I opened my huge folder of documents and showed them everything I'd collected.  The guards rifled through the papers and found my Kyrgyzstan temporary import permit.  "This is what we need," they told me. I was confused–why would they need a Kyrgyz document in order to let me leave Russia?  The guard emerged from the office a few minutes later, and explained to me that there was a "big problem"  — evidently Russia, Kazakhstan, Kyrgyzstan, Belarus, and Armenia all use one automobile customs system.  Thus, for all of these countries, you only receive one temporary import form–mine from Kyrgyzstan.  The Kyrgyz guys had only given me a permit valid for ten days and to make things worse, they'd given me the permit for a car rather than a motorcycle.  20-something days later, I'd been driving around Russia illegally.  The guards explained that I'd have to wait for the big boss to come to work in order to sort everything out.  He arrived around 10am, and finally began helping me around 11.  By 2pm, I was out of Russia, but not before taking a picture with my new friends.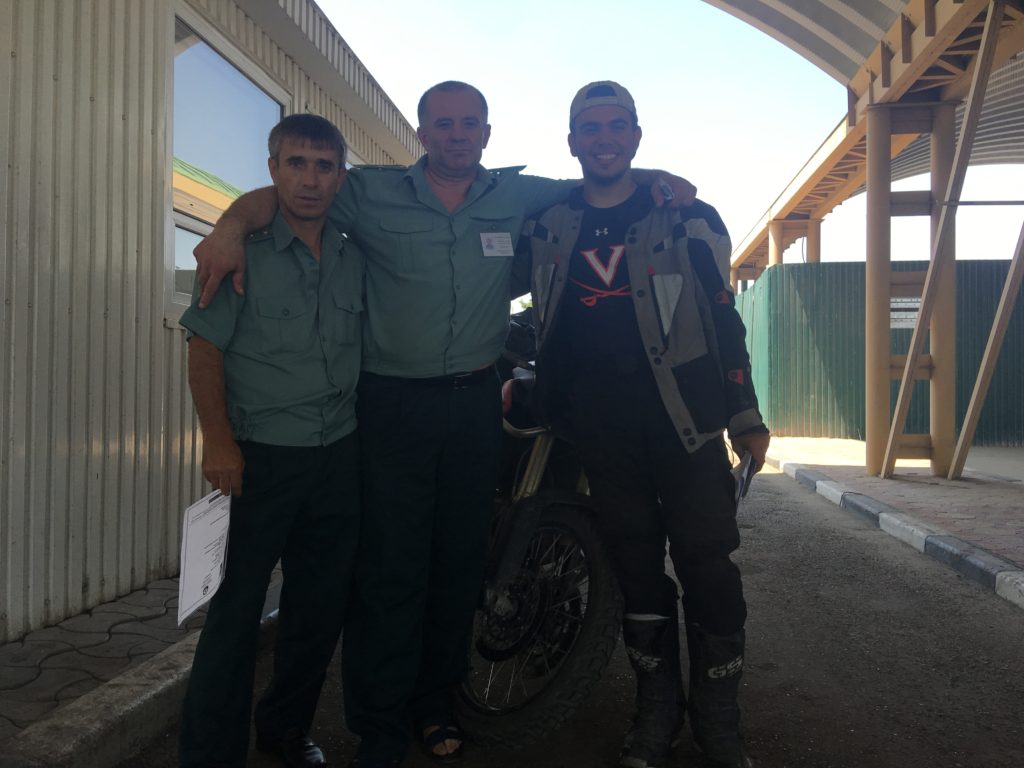 I entered Azerbaijan ten hours after initially beginning the border crossing process–my longest crossing to date.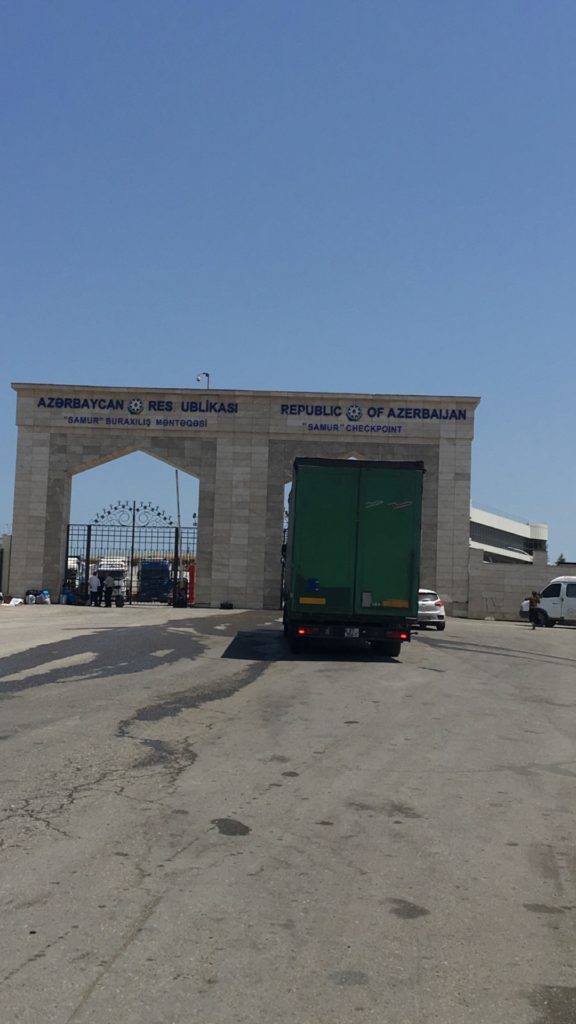 Even though it was now 2pm, I was still resolved to make it to Georgia without stopping.  The Azeri roads were hit-or-miss.  Some sections were merely gravel whereas others were well paved dual-carriageways.  I stopped only for gas, passing Baku around 4pm en route towards the Lagodekhi border.  As the crow flies, the two borders are only about 150km apart, but because every road in Azerbaijan runs through Baku, the entire route was closer to 500km.  Armed with only my Garmin GPS (phone had no signal), I continued.  The sun set around 8pm, and everything was completely dark by 9:30.  To make things worse, my GPS decided to take a shortcut that involved crossing some mountains on gravel roads, which wouldn't have been bad except for the lack of light. Around 11pm, I got stuck in a large patch of mud and began to dismount in order to lift my back tyre out of it, when an enormous bear emerged from the shadows and crossed the road (ON TWO LEGS!!!!).  He (I think) stopped to look at me, not realizing that I was scared shitless.  I nixed the bike dismount and channeled my adrenaline towards getting the hell away from the enormous creature.  The tyre eventually found some rock and traction and powered me out of harm's way.  An hour later, I arrived at the Georgian border, crossing swiftly, and ultimately arriving in Tbilisi around 3am.
---