by Zach
Posted on June 25, 2016

Comments Off on Russia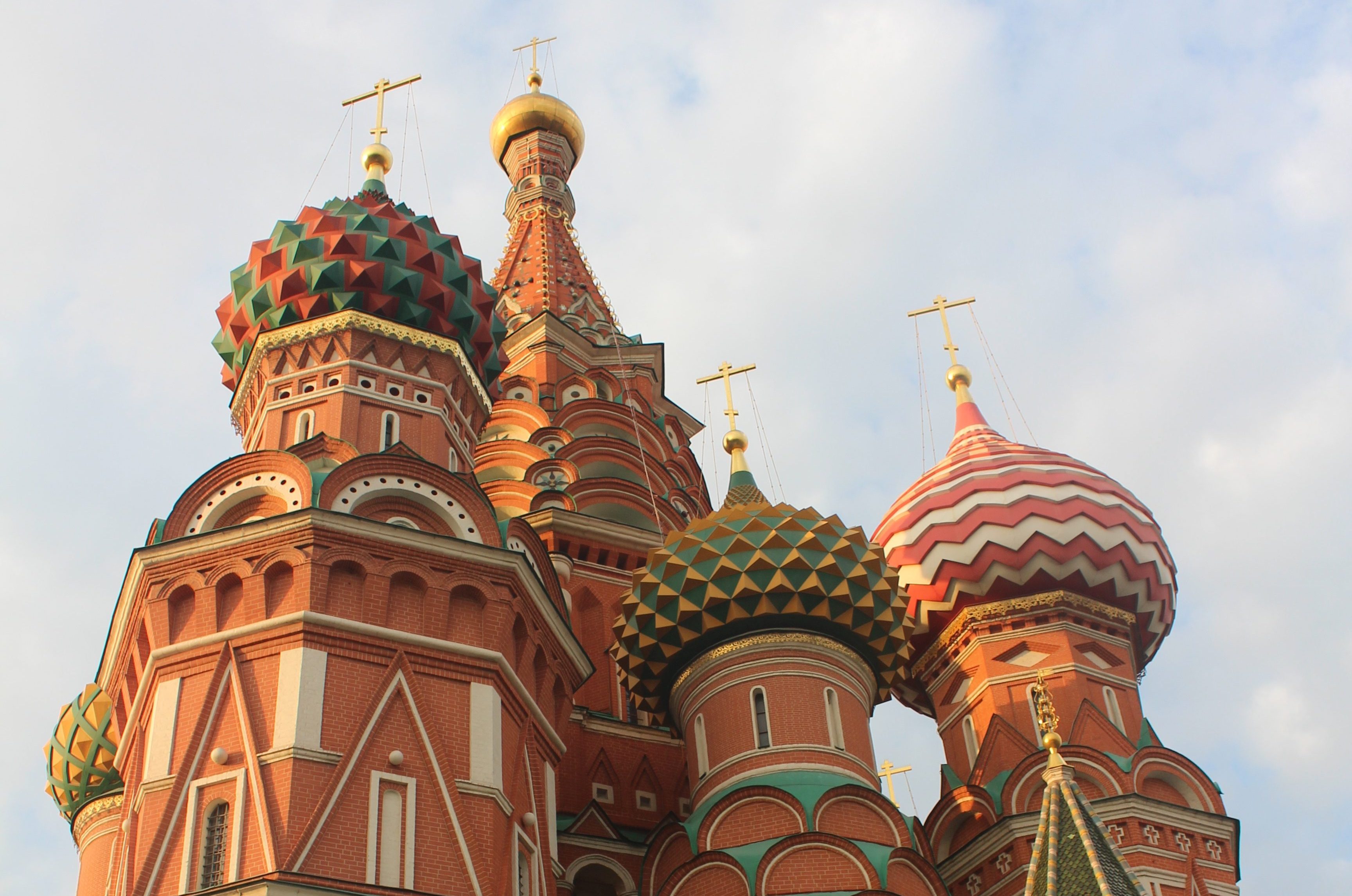 After writing my last post from the hotel in Omsk, I packed up my stuff and prepared to depart for Chelyabinsk.  My plans took a drastic turn when I saw two guys wearing Harley Davidson vests in the lobby.  We looked at each other silently for a minute before they approached.  "Are you the biker from Beijing?" one of them asked?  I nodded.  "We've been looking for you since yesterday.  We thought you were Chinese, so we asked all the hotels about a Chinaman, not an American!"  I was taken aback–I knew the guys in Pavlodar had called ahead, but I wasn't expecting such a dedicated welcoming committee.  "Let's go to the clubhouse," they told me.  I decided I might be staying in Omsk another day.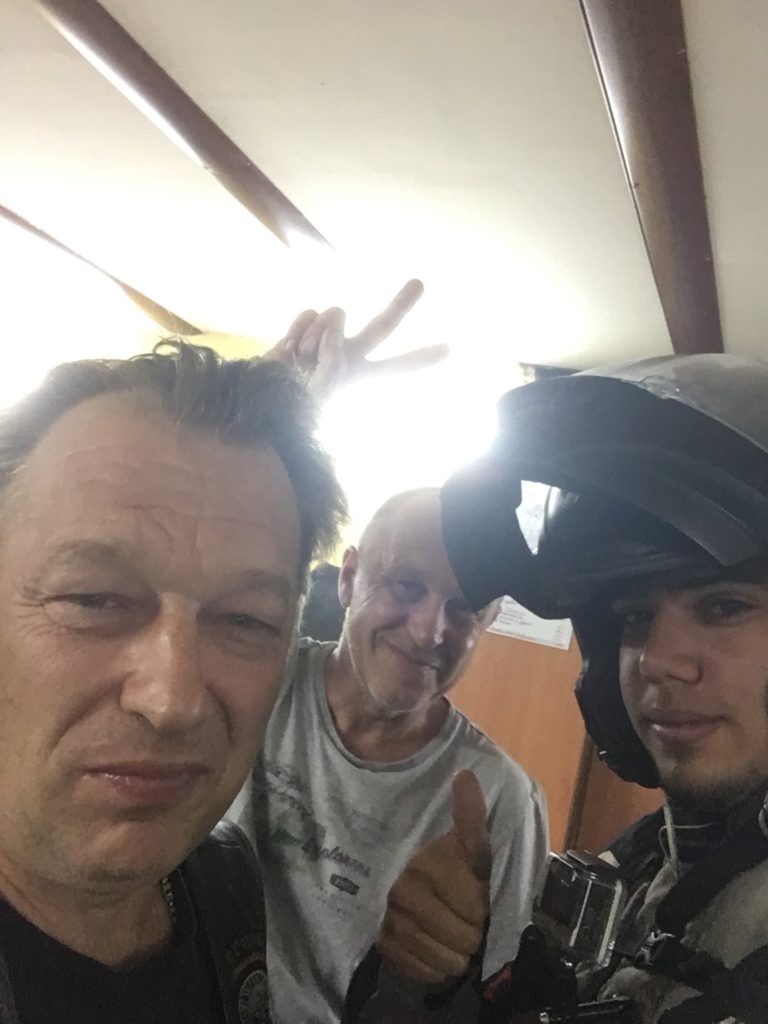 The guys in Legion 55 (the name of the club, named for the license plate region code of Omsk–55) helped me get my bearings in Russia; they took me to buy a SIM card, get cash, and figure out the roads. One of the guys insisted that I stay the night in order to attend his niece's birthday party that evening.  I accepted.
Before heading that direction, we stopped at his apartment, the place I would be staying for the night–I had no say in the matter, it was already a done deal.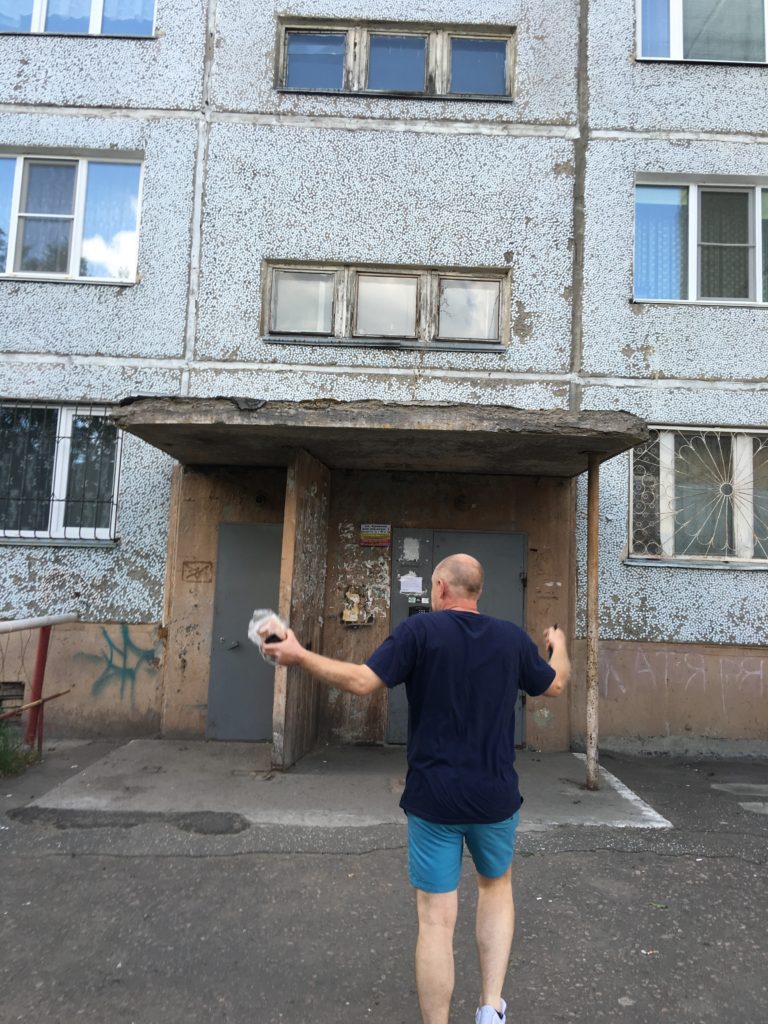 My new friend led me up to his building, which was clearly built as an apartment bloc during the Soviet era and into his modest home.  The whole atmosphere was slightly eerie.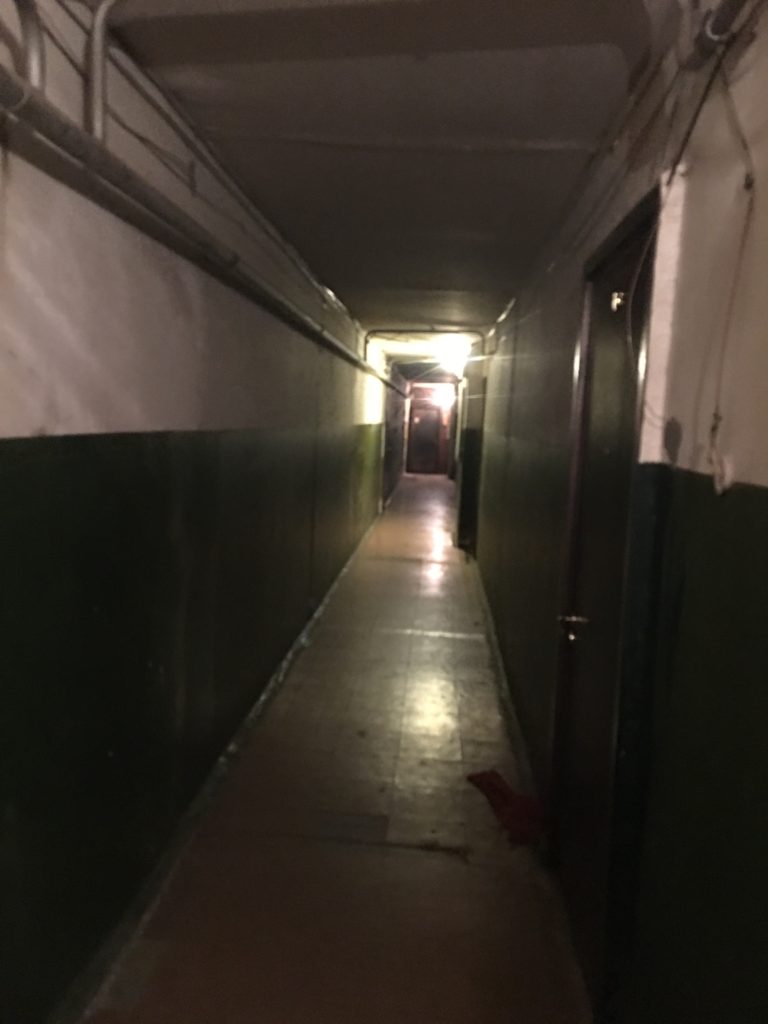 Nonetheless, no problems arose.  We headed from his building down the street to his brother's house to meet the family for dinner.  The whole affair was extremely Russian–eating in the backyard of the house, while the women roasted meet over a fire in an empty oil drum.
They explained that drinking vodka was a "Russian Tradition" and that I had to partake in order not to offend anyone.  I obliged.  We sat there for many hours discussing everything from American politics to Russian basketball.  It turned out one of the brothers was freakishly tall and had played professionally in Moscow.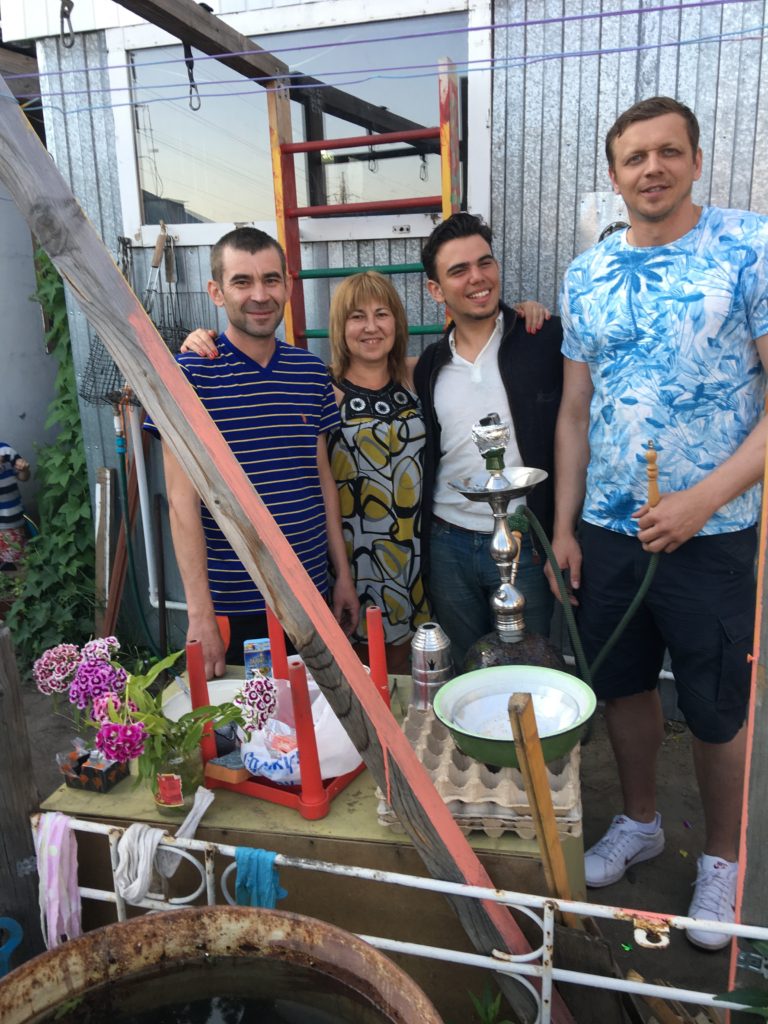 That evening, after a little bit too much vodka, we wandered aimlessly around Omsk, crashing a wedding banquet (they were all very pleased to see an American) and setting of fireworks to commemorate the niece's birthday.
Early the next day, I set off for Chelyabinsk.  18 hours and 1000 kilometers later, I arrived.  Chelyabinsk itself is not a spectacularly beautiful place.  Its purpose during the Soviet era was to build WMDs for the Cold War, and to this day it is an extremely industrial place.  After catching a few hours of sleep, I set off in the morning for Kazan.  Another 900 kilometers were added to the odometer before I arrived.  In the process, I crossed the Ural Mountains–a range acting as the Russian border between Europe and Asia.
Kazan–in contrast to Chelyabinsk–is extremely beautiful.  Part of Tatarstan, it has its own Kremlin buildings and lots of beautiful European architecture.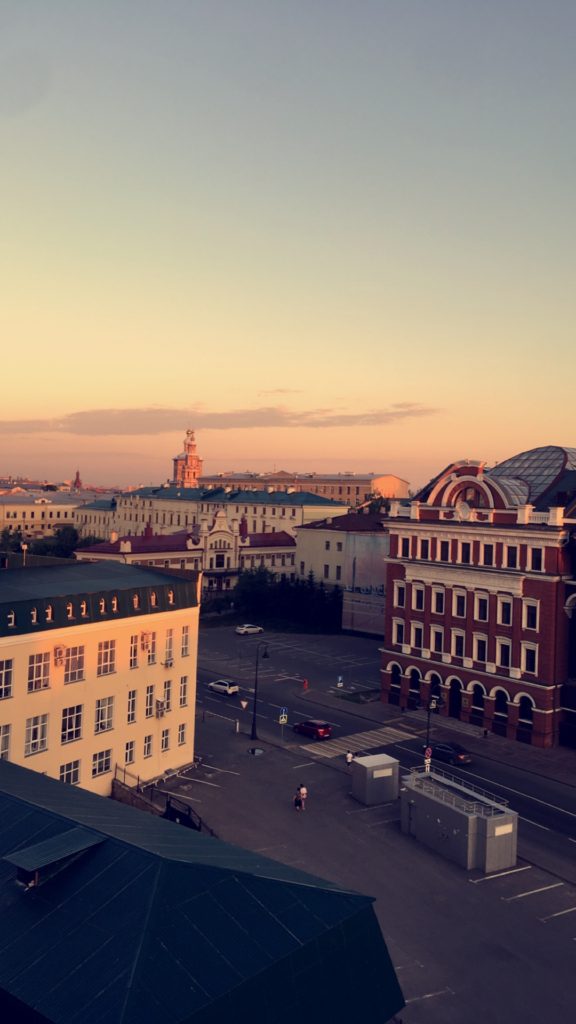 Initially, my plan had been to spend one night in Kazan before heading on to Moscow and then to the Baltics (Latvia and Lithuania) to loop back around to Turkey and the Caucasus.  My plan was to make it all the way back around (~5000km) in about a week in order to meet my sponsor and friend Mozes in Tbilisi.  After two days and 2000 kilometers, I started to feel effects of riding 18 hours a day and realized that perhaps five more consecutive days of hard riding might be seriously detrimental, so I decided to change the route.  Instead of heading west from Moscow, I'd head south to Chechnya and Ossetia before crossing into Georgia directly.  This effectively cut 3000km off of the route to Tbilisi, a much more manageable distance for the week.  Having resolved to stay in Russia slightly longer, I decided I could spend another day in Kazan.  In the morning, I called the local motorcycle club and asked if they might be willing to show me around town.  They were delighted to hear from me. We met at the local club house–a Steampunk-themed structure immaculately decorated with grungy-looking retro motorcycle accessories and parts.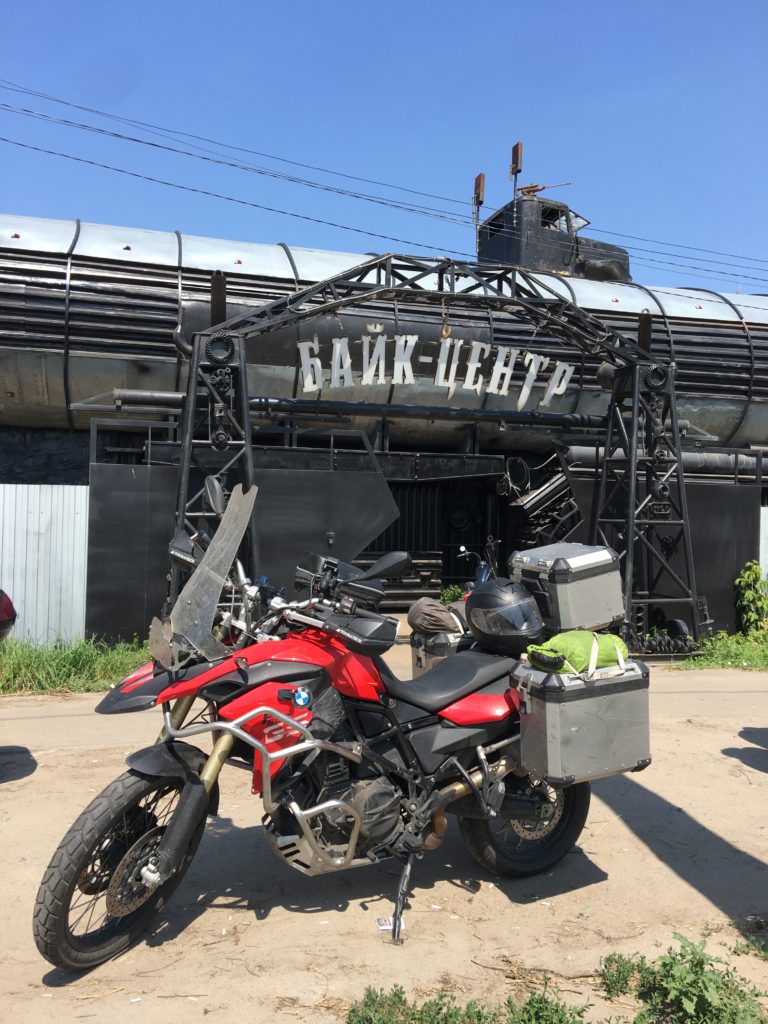 The clubhouse was complete with a bar, kitchen, and repair shop.  These guys weren't messing around.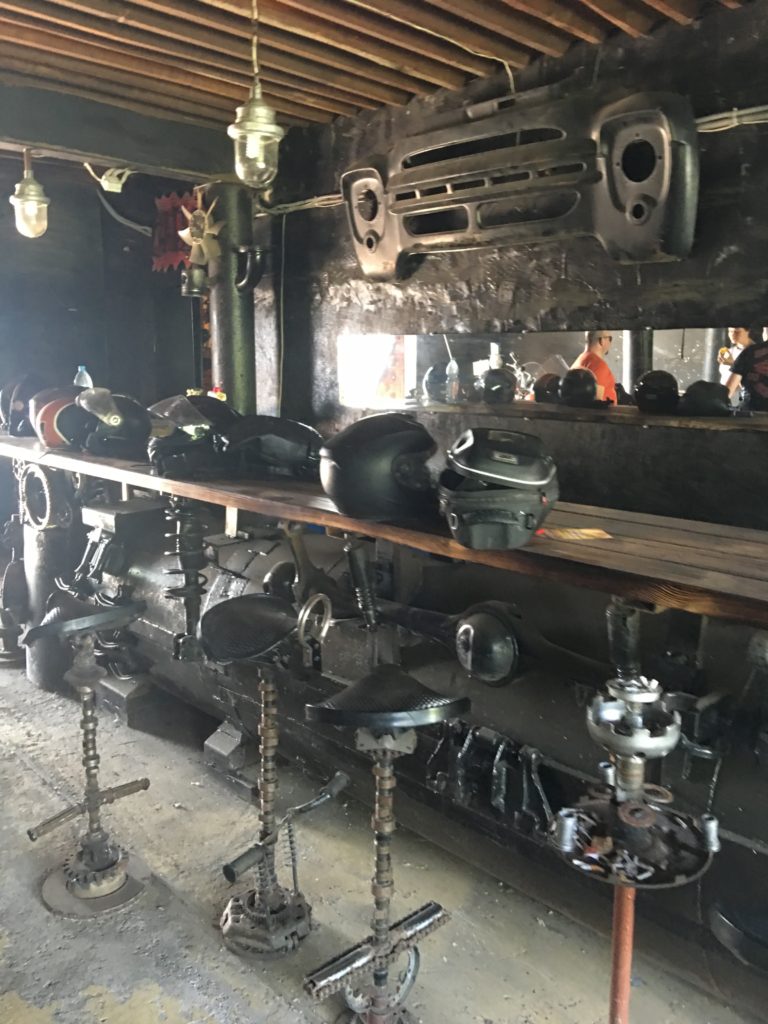 At the club, I met the president, Victor, who explained that they would show me around Kazan, and then we would take a half day excursion to Sviyazhsk–a nearby Tatar built island city.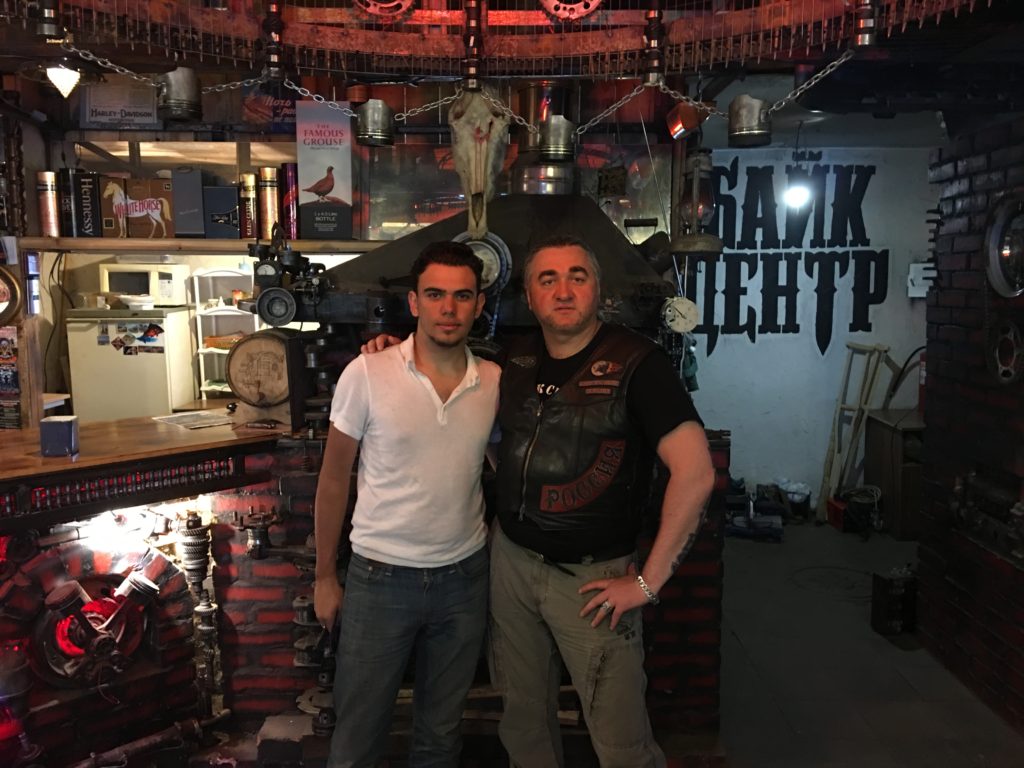 Kazan itself has plenty of interesting things to see, and I would have been delighted to just spend time exploring all of the classical buildings.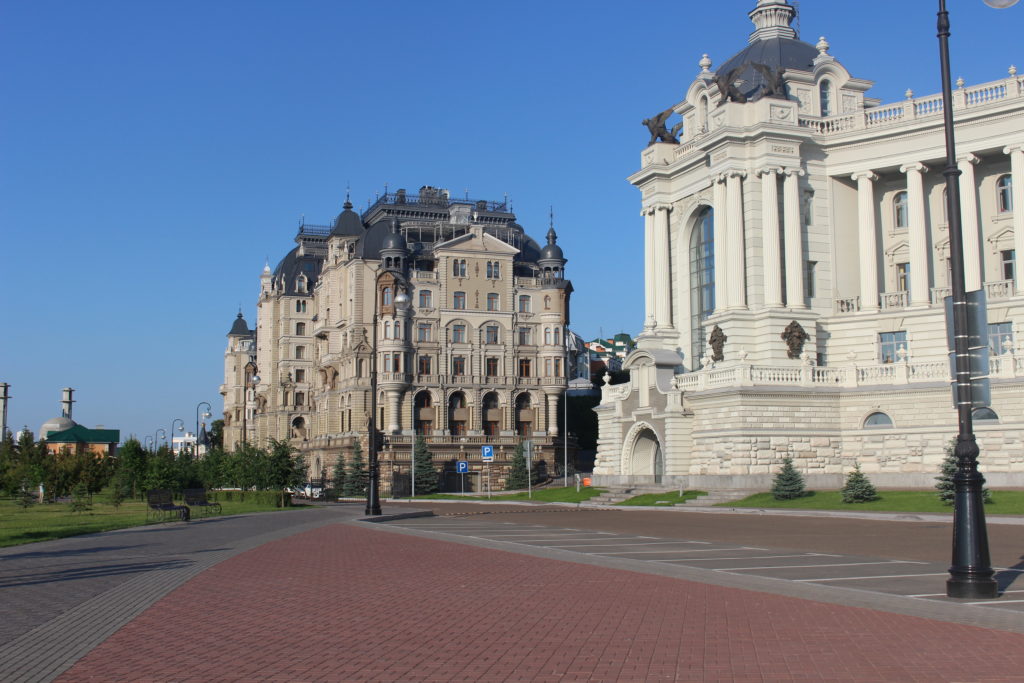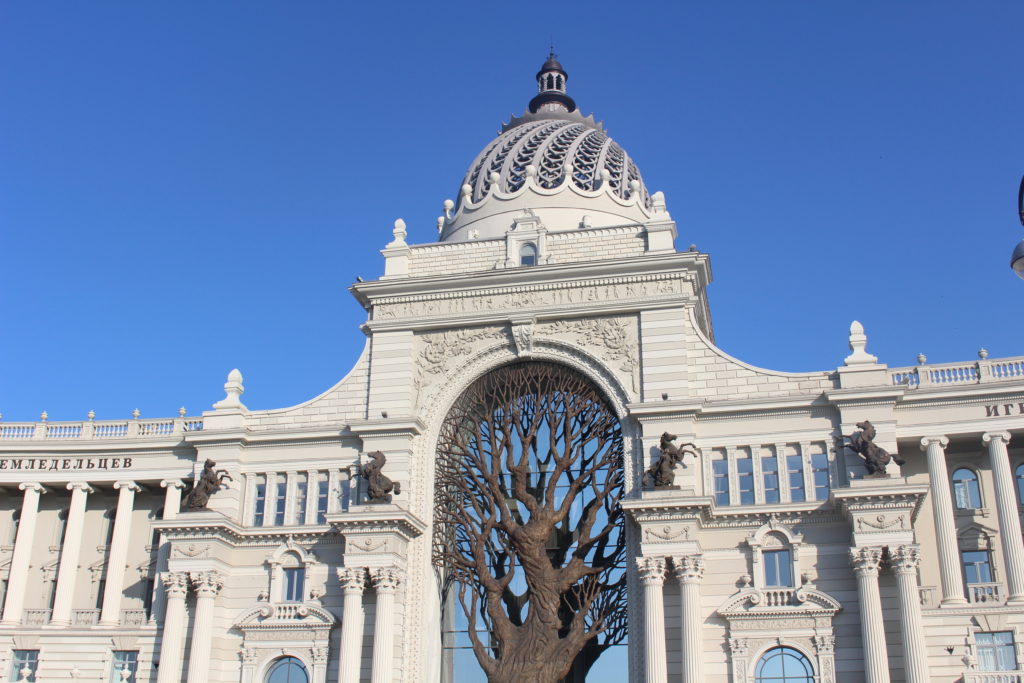 My new friends, however, had other plans.  We headed for Sviyazhsk around noon.  The ride was fantastic–I was surrounded on all sides by Russian guys on Harleys trying to mimic their American counterparts.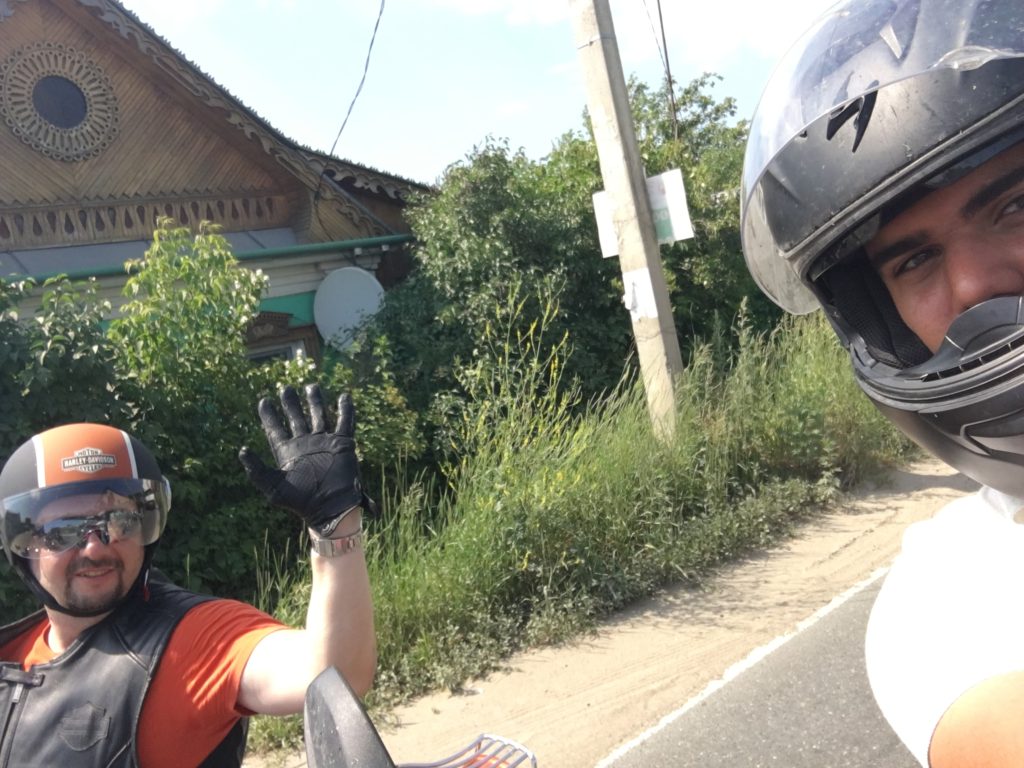 Arriving in Sviyazhsk, I was slightly underwhelmed.  The place was teeming with Russian tourists, and didn't really seem to have much cultural value remaining.  Most of the buildings were now storefronts selling generic tacky gift shop items.  But there was a diamond in the rough, so to speak–a 1000 year-old Russian Orthodox church in the middle of town.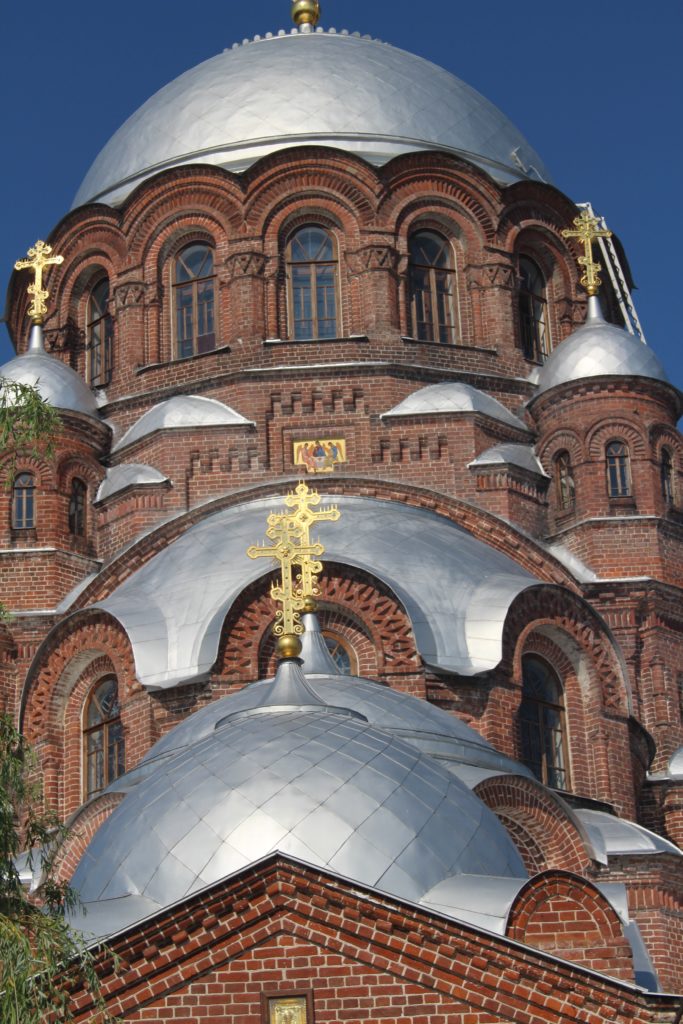 The location of Sviyazhsk was also quite stunning.  Legitimately situated on an island (or a peninsula–I'm not entirely sure), the place is surrounded by an extremely vast lake.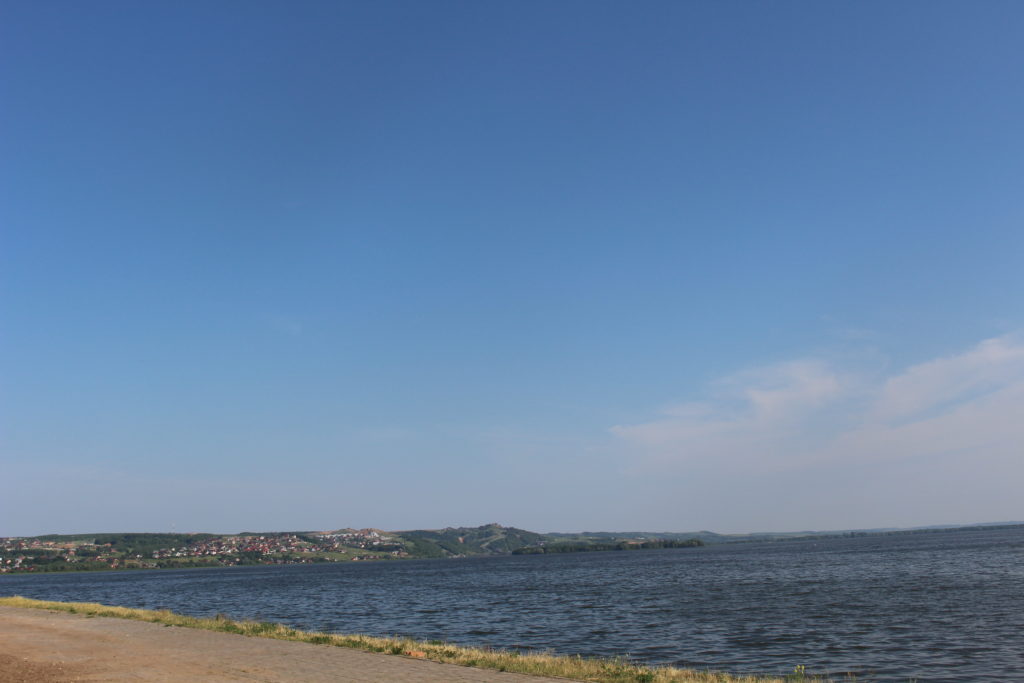 After a couple hours of exploring, we headed back to Kazan, where my friends decided to cook dinner at their club house.  The only item on the menu was Plof.  Luckily, I really like Plof.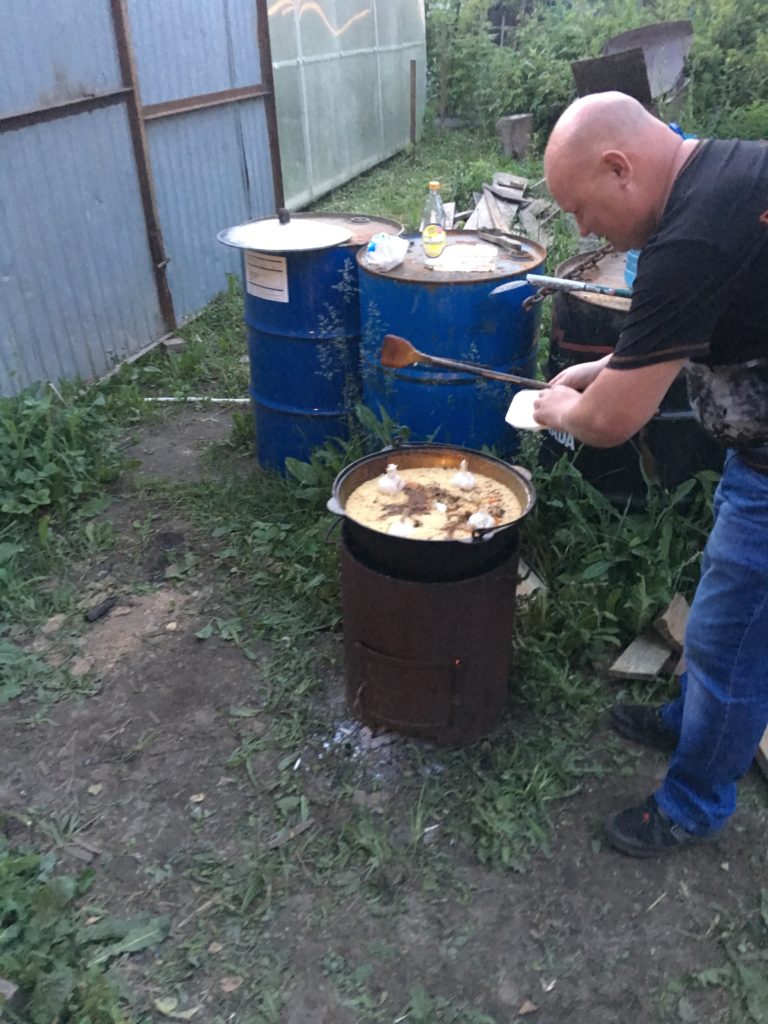 We sat down to eat and drink vodka as well–obviously.  The guys told me that their biker club had chapters in Moscow and also in Chechnya, and gave me contact info.  The next morning, I left for Moscow.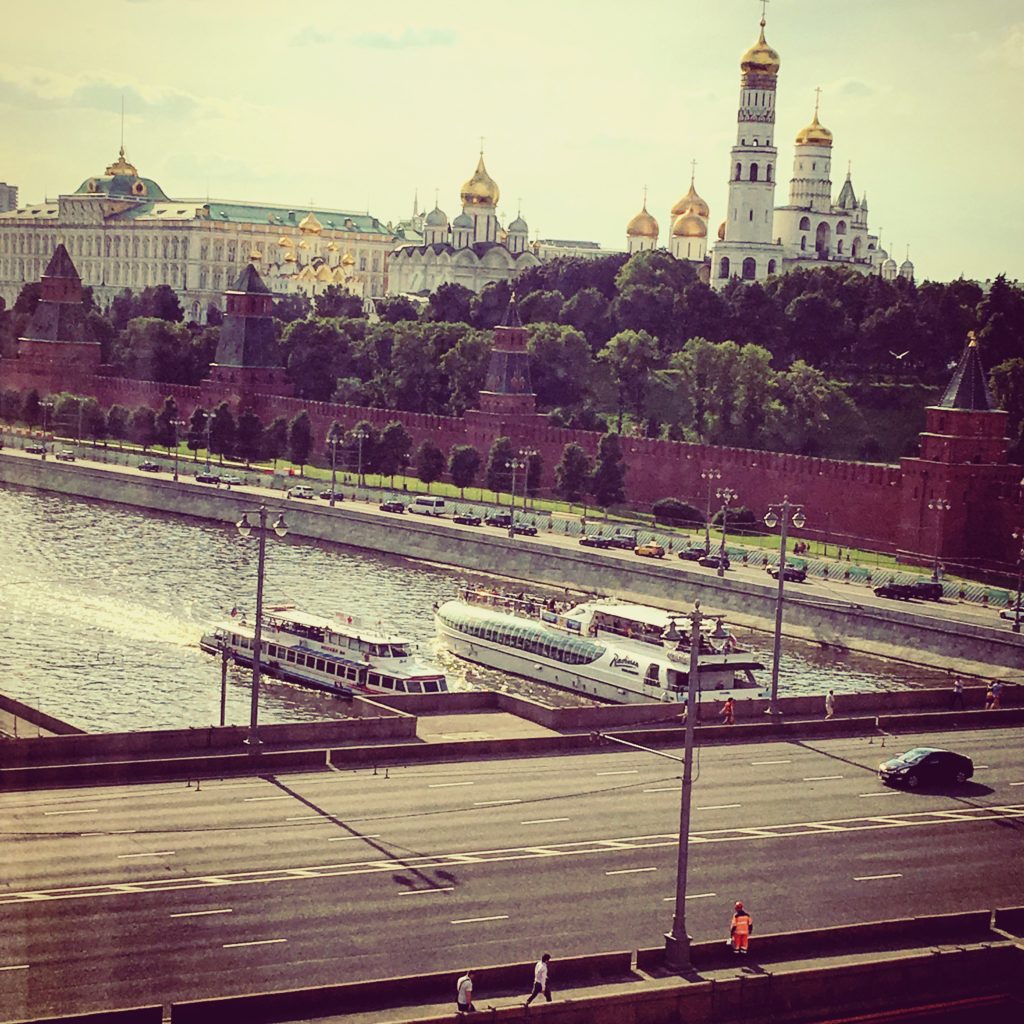 Moscow is unlike any part of Russia I'd explored so far.  The classical architecture and traditional Russian Churches are absolutely stunning.  As an added bonus, from my hotel room window, I could see the Kremlin.  I spent the remainder of the day exploring Red Square and the surrounding areas.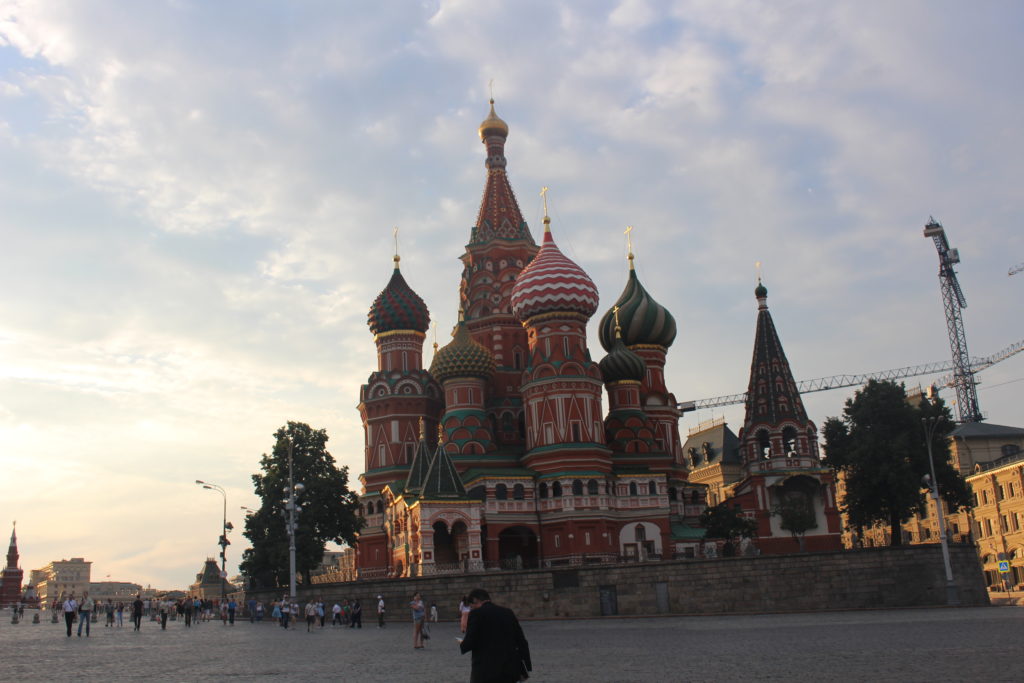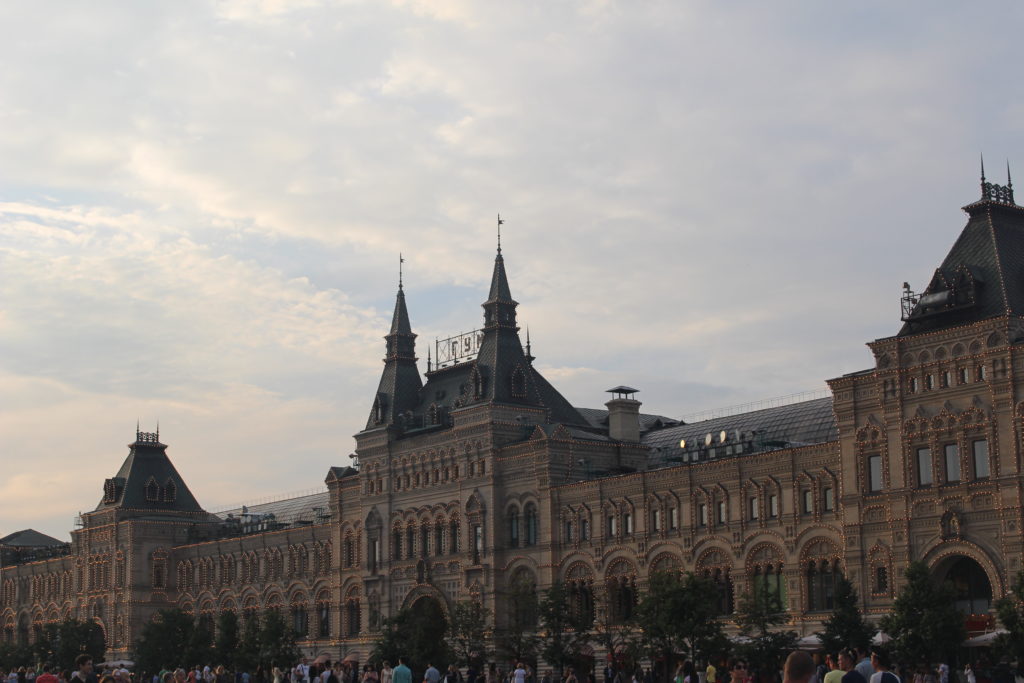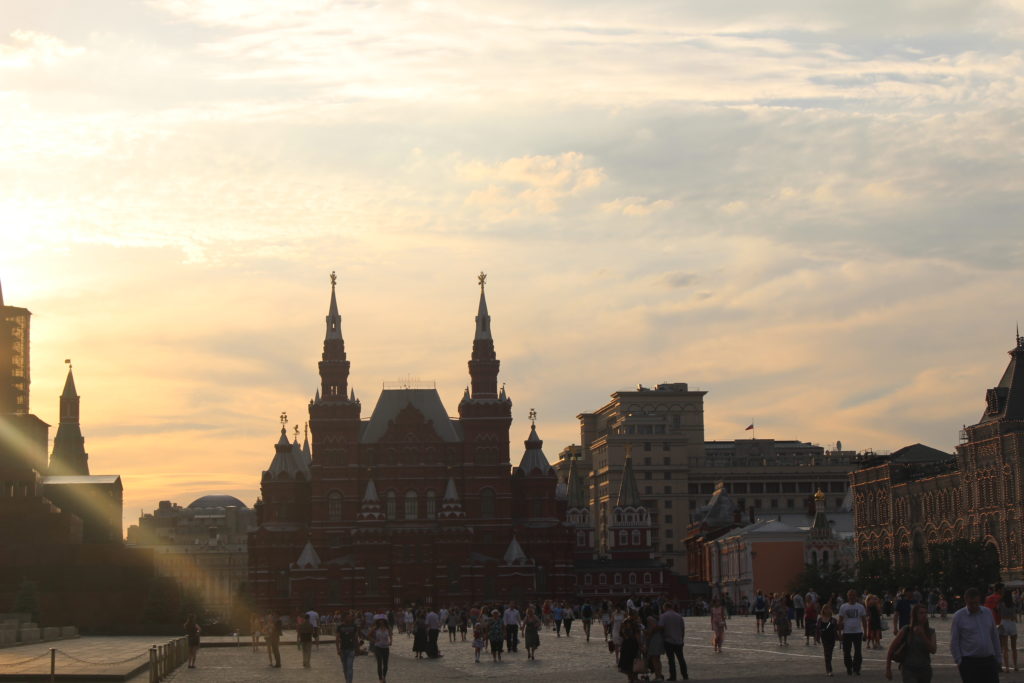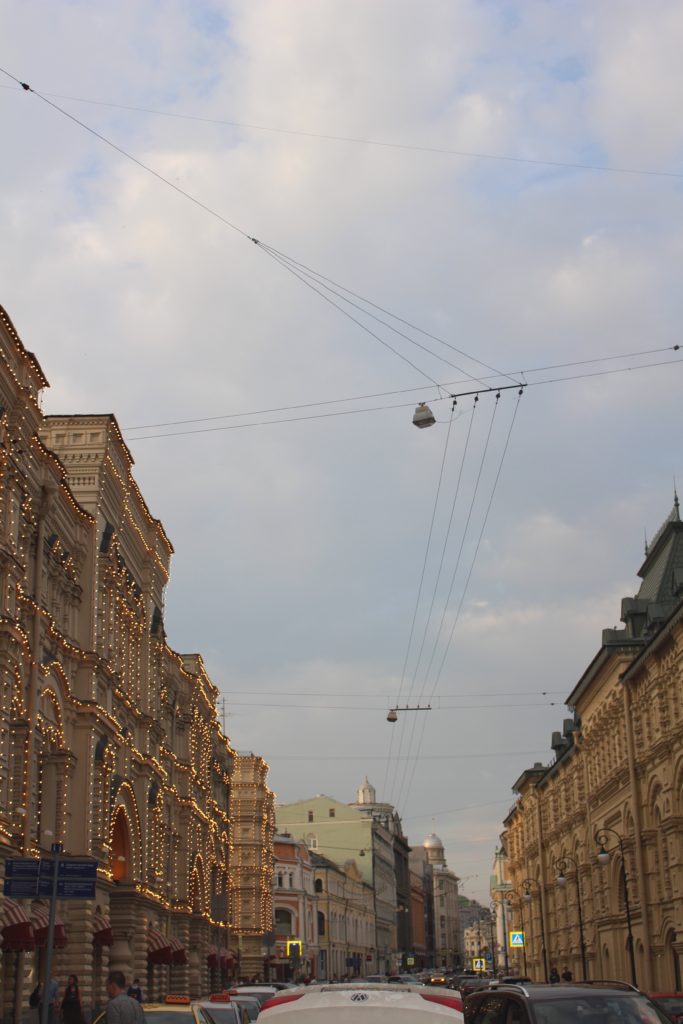 In the morning, I rode over to the local BMW Motorrad dealership for maintenance and new tyres.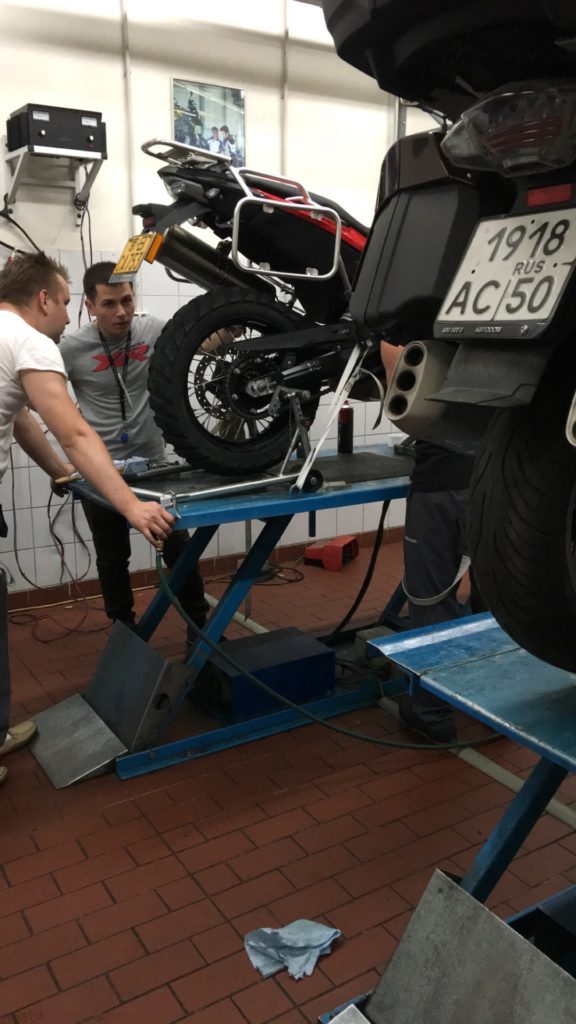 It turned out that my air filter was also in need of a chance–the thing was completely clogged with dead bugs.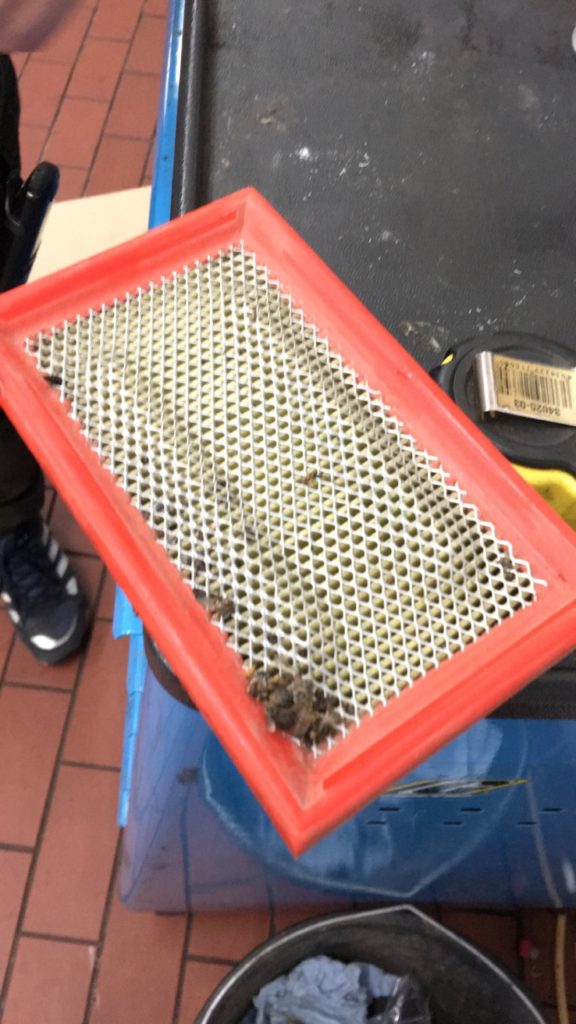 New tyres, oil, and filter done, I headed back into Moscow, determined to take a picture with my motorcycle in Red Square.  I drove up and asked some Chinese tourists to take my picture.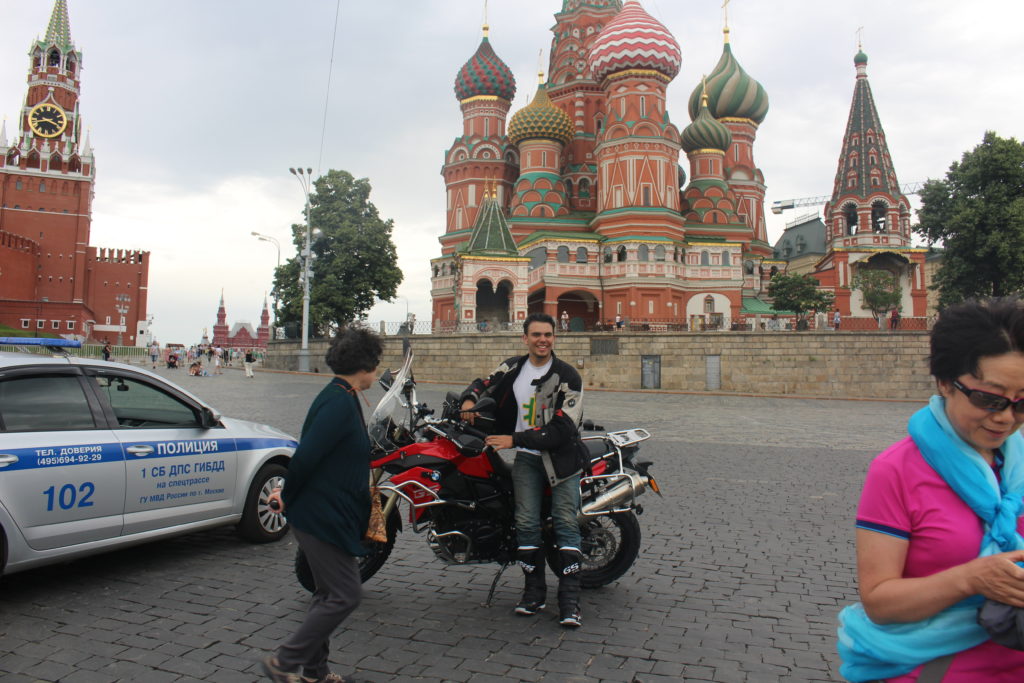 The police, however, were not so keen.  Within two minutes, police cars were began pulling up next to me. I played the dumb American card, but it didn't work.  Some random 'tourists' wearing shoulder bags that probably contained guns came over and told me that I had to leave.  I took out my wallet and handed the policemen $40 and explained that I just wanted one picture.  They were unrelenting.  Moreover, the secret police dressed as tourists started to get impatient.  I took out another $40 and gave it to them.  Finally they relented for just a moment.  The result was fantastic.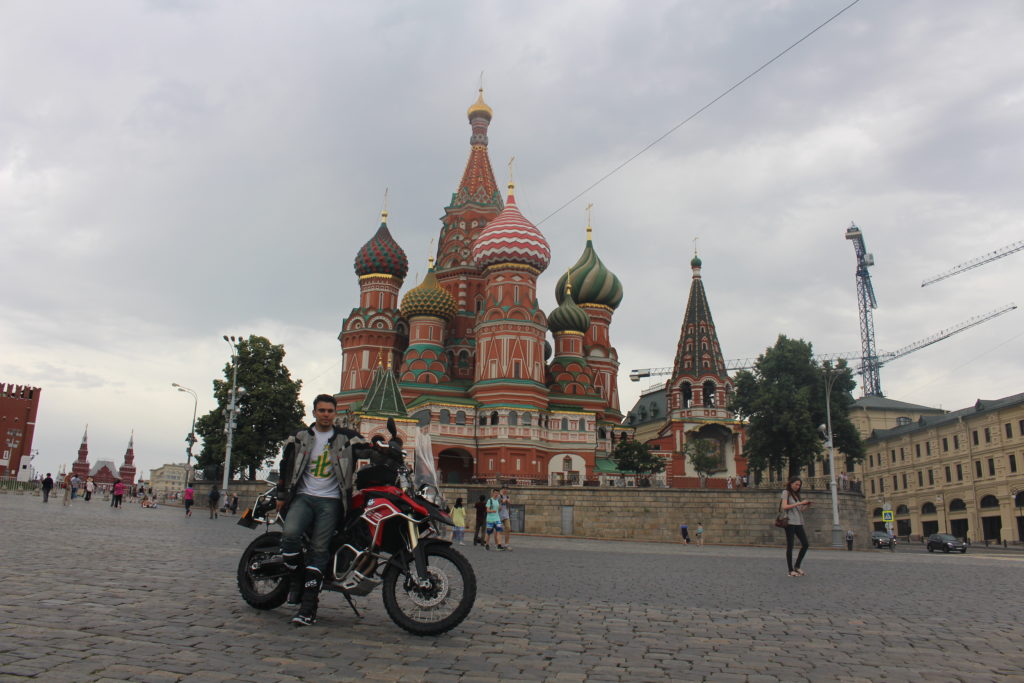 I thanked them all, gave out another $20 and left before anyone could change their mind.  The rest of the day was spent exploring more of Moscow.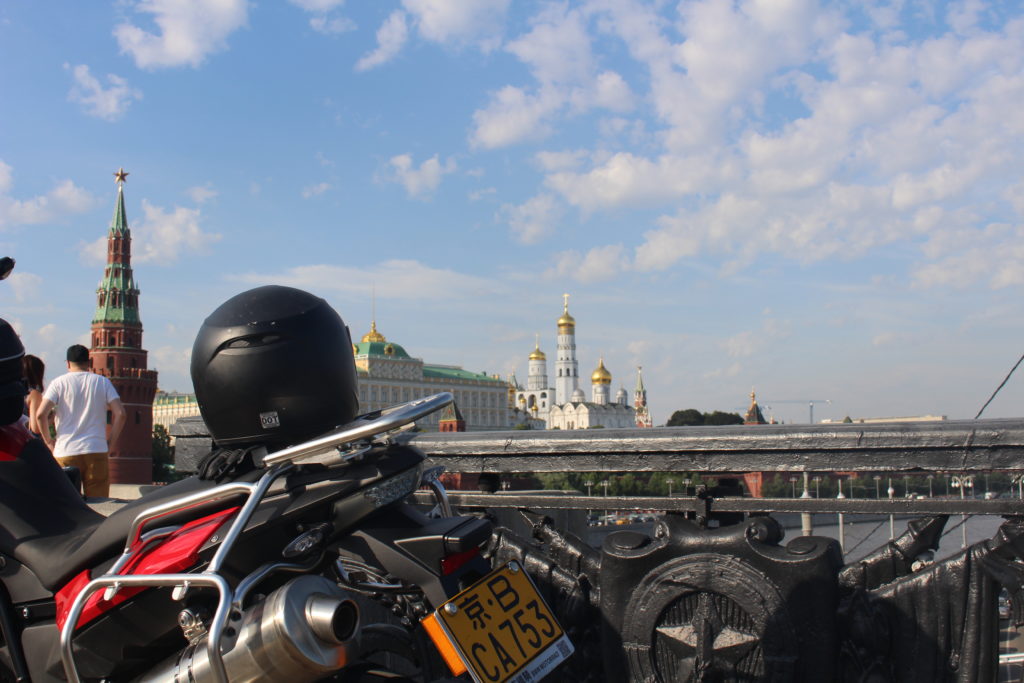 In the evening, I visited the Night Wolves 'headquarters' — their largest clubhouse.  I was not disappointed.
Imagine a bunch of Russians who are extremely interested in American biker culture all sitting around drinking Jack Daniels and listening to Death Metal and ACDC.  I was amazed.  The guys in Moscow once again reaffirmed that my contact info for the Chechen chapter was correct and stressed that I would have no problems there.  In the morning, I set off southwards.  Through 500 kilometers of torrential downpour.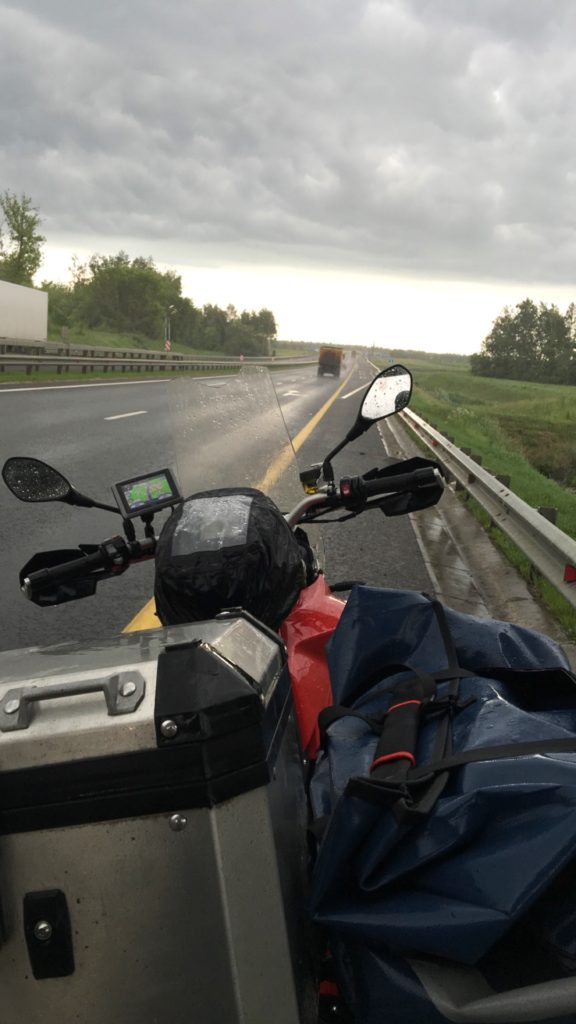 Luckily, everything I have is waterproof.  By sunset, I'd reached Rostov on Don — a small city near Crimea that sits on the River Don.  Not much was going on there and I was just passing through en route to Chechnya, but nonetheless, I managed to find some local bikers.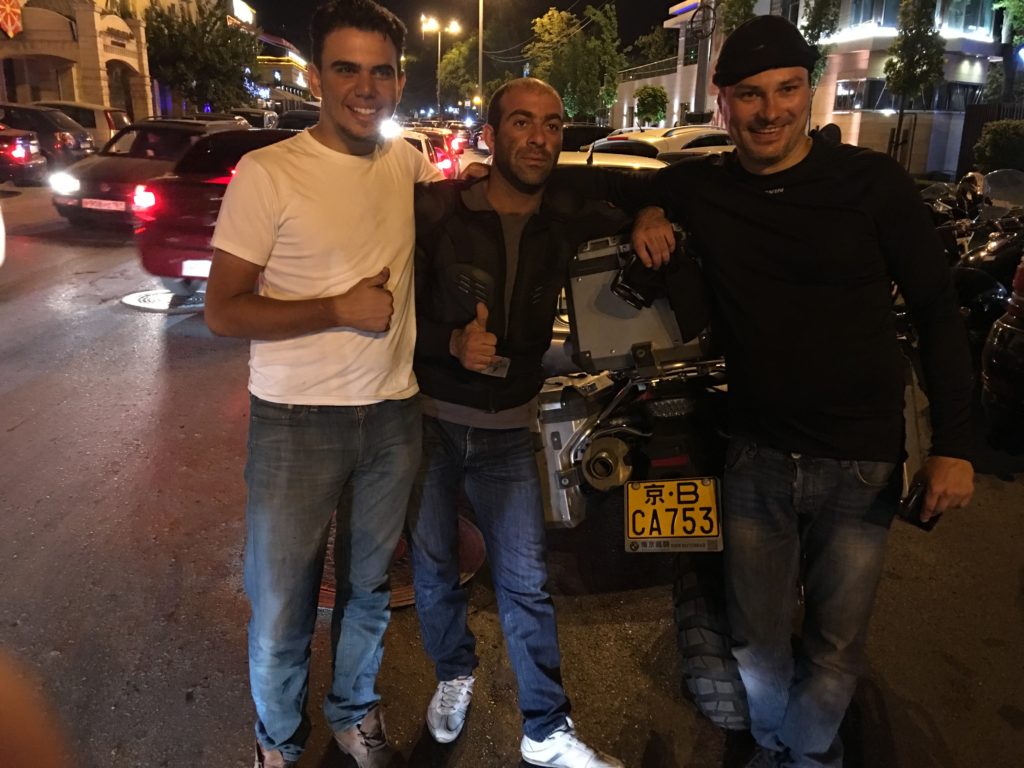 They told me I was crazy, but mainly couldn't stop taking pictures of the Chinese number plate.  "Seriously?  No problems in customs?  You're American.  Number plate Chinese.  What is your goal?"  I explained that I was raising money for Alzheimer's, which elicited the response, "So you are spy."
Definitely the case–a spy in Russia who can barely read Russian street signs, let alone understand most of what people are saying.  Nonetheless, the guys were extremely friendly.
En route to Chechnya, things began to change.  The smiling traffic policemen were replaced by burly military police armed with assault rifles.  Every 100km or so, a bottleneck checkpoint would cause a jam.  Inevitably, every checkpoint wanted to see all of my documents.
By the afternoon, I reached Ossetia, another formerly unstable neighbor to Chechnya.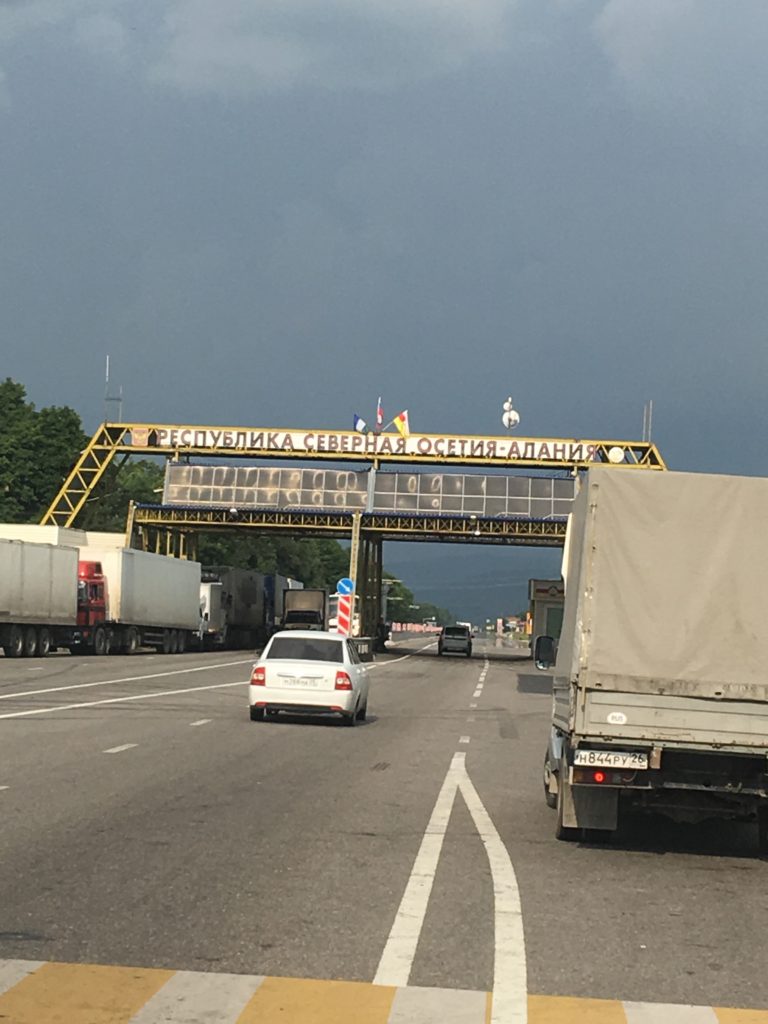 From here, the checkpoints became more frequent.  However, everything remained very professional.  The police and soldiers were friendly as soon as I explained I was American.  Perhaps I'm weird, but seeing road signs like this gets me a little bit excited, too.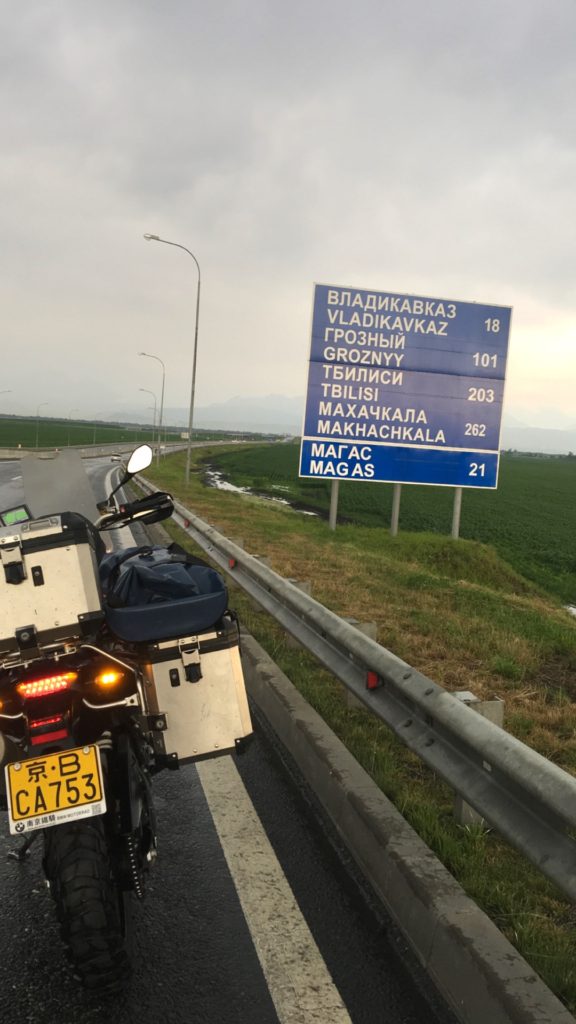 Ossetia, Georgia, Dagestan, and Chechnya in one sign.  What could be better.  The honking drivers behind me didn't share my interests obviously.   I arrived in Grozny a little bit before sunset.  As it's part of Chechnya, that meant locals were getting ready to break fast.  My contact assured me that he would meet after he and his family had eaten and prayed.  This gave me time to wander around Grozny a bit.
I don't know exactly what I was expecting to see in Grozny.  Ten years ago, it was a war torn wasteland–named by the UN as the world's most destroyed city.  Now, everything has been rebuilt and everything is ultra modern.  Grozny even has its own distinct skyline, and the streets are lined with G Wagons, Range Rovers, and Bentleys–all driven by bearded Chechens.  Nonetheless, it was extremely cool to see the place, and meeting my local biker friends, I got to understand the place a little better.
They explained that generally, they didn't really mind the Russian government or Putin–he was making them all very rich.  All of the local bikers seemed to own at least one Mercedes along with two or three bikes, backing up this assertion.  We did a victory lap around central Grozny, stopping for me to take pictures with some of the counter-terrorist FSB guys.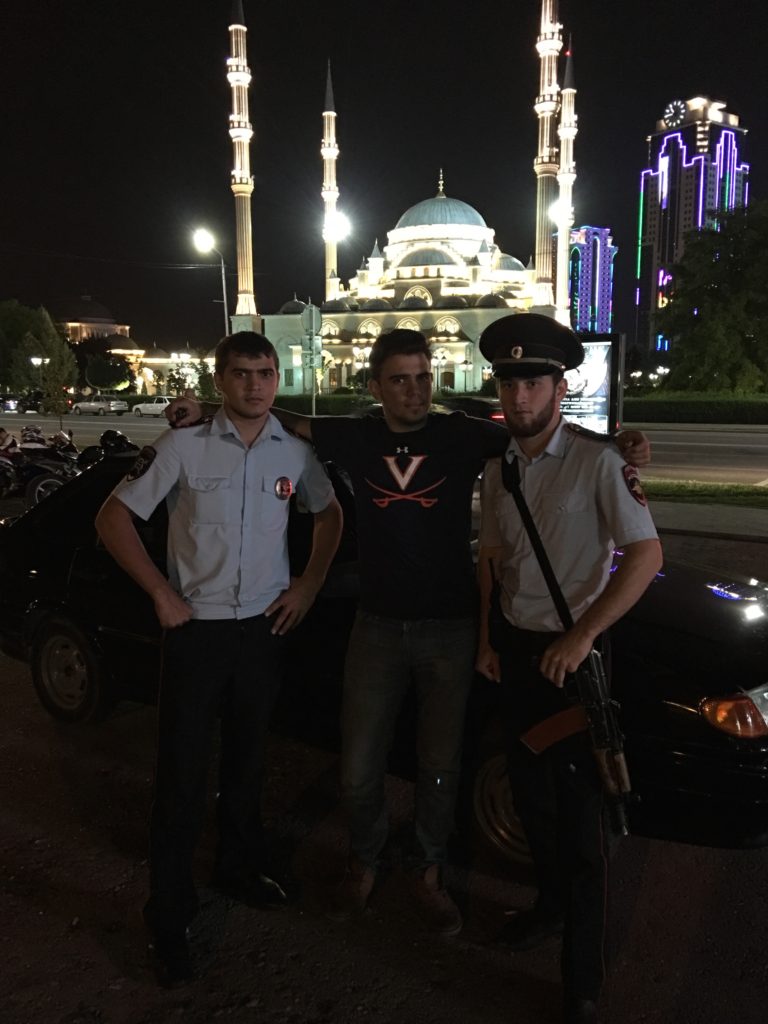 The next day, I left Grozny to head towards Tbilisi in Georgia.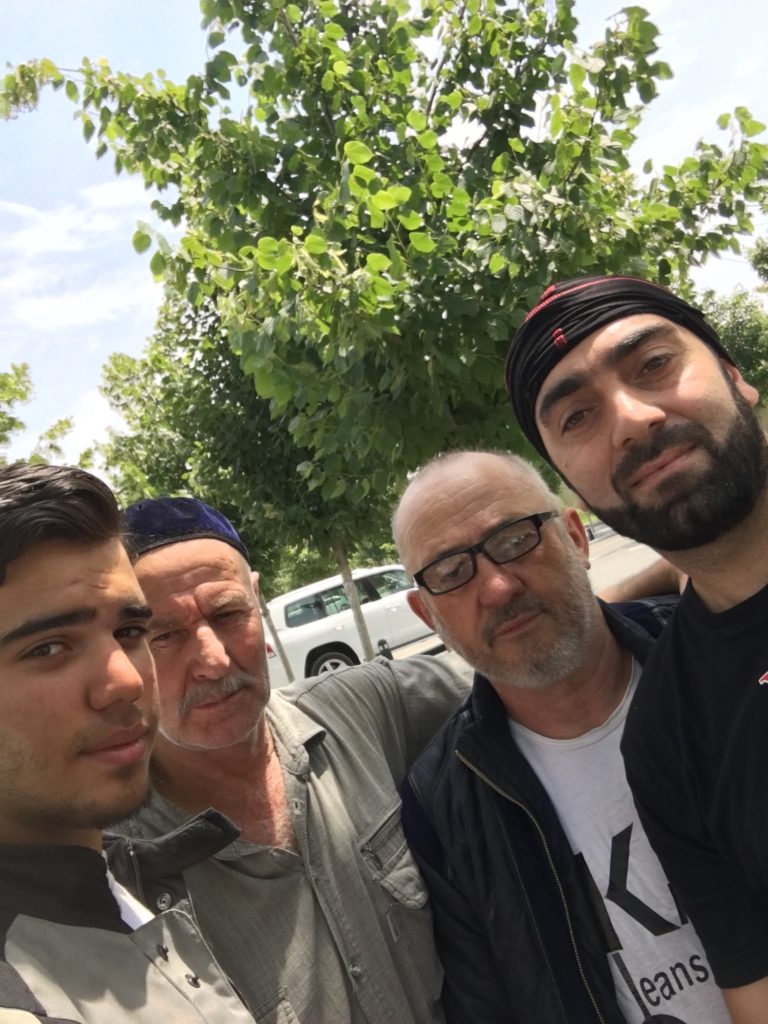 Going back through one of the checkpoints, the guard asked about my intentions.  I told him I was headed to Georgia.  He told me, "No Georgia.  No road."  I didn't quite understand.  They let me continue, so I assumed it was a non-issue.  120 kilometers later, I arrived at the border gate, deep in the Caucasus mountains. The gate was closed.  The Russian border guard gruffly told me to leave because "Catastrophe.  Georgia.  No Customs.  You go.  Goodbye forever."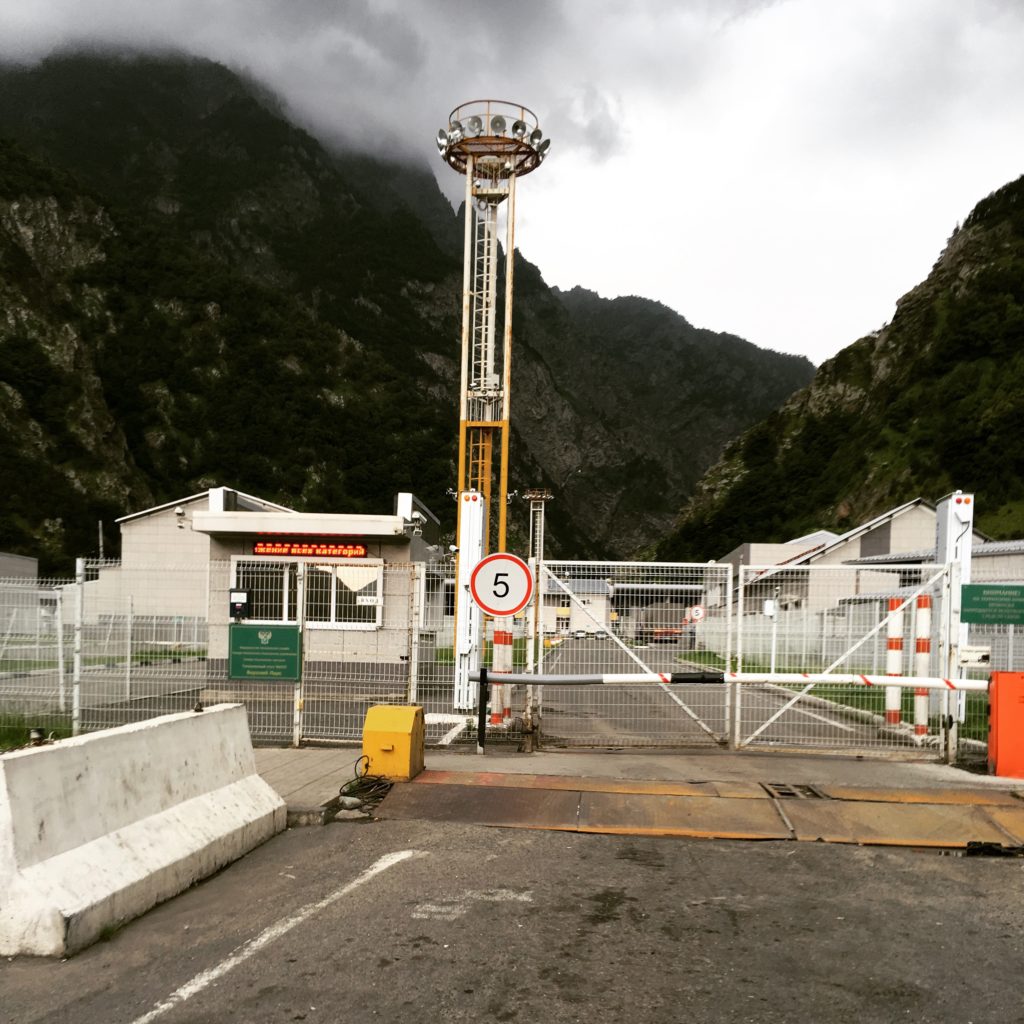 I didn't really understand, and my cellphone SIM card didn't have data service in Ossetia or Chechnya.  I retreated back to a roadside cafe and connected to the internet.  Apparently, a severe landslide in Georgia had left quite a few people dead the day before, and the road was entirely washed away.  As a result, the border was closed indefinitely, with the Georgian government official estimation of two to three weeks for repairs.  I headed back to Vladikavkaz, the Ossetian city near the border and began researching alternative routes.  Currently awaiting my Azerbaijan visa approval in order to circumvent this massive obstacle.
Here is my current progress and revised route: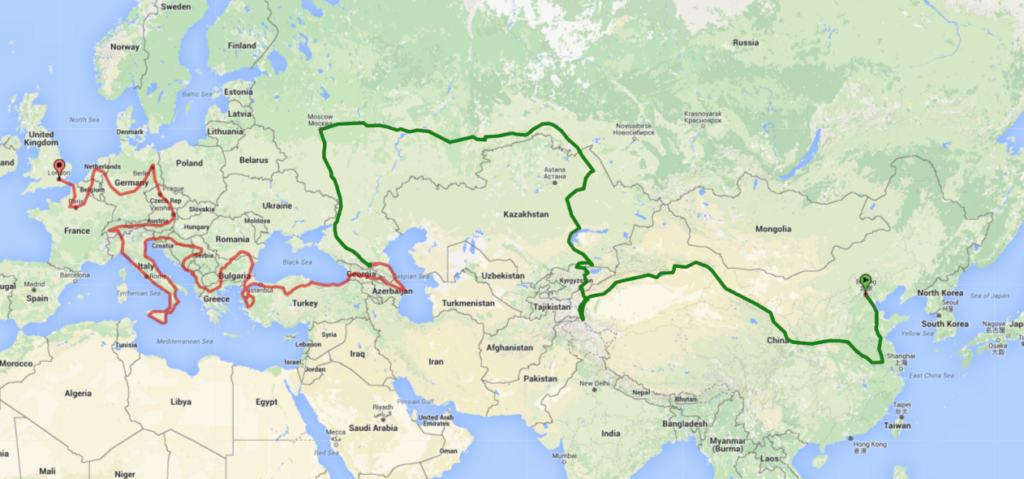 ---